Davis' arrest illegal, lawyer argues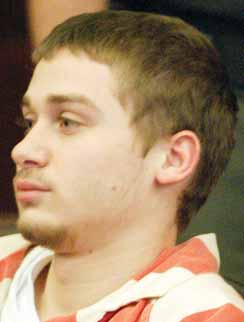 Photo
Michael Davis during his Oct. 2008 sentencing
YOUNGSTOWN
Whether the confessions of Michael A. Davis to setting the East Side house fire that killed six people Jan. 23, 2008, should have been admitted as evidence in his trial was a key issue in oral arguments in his appeal.
Spared by a jury from the death penalty, Davis is appealing to the 7th District Court of Appeals his conviction and the 310-year prison sentence he received from Judge R. Scott Krichbaum of Mahoning County Common Pleas Court.
Killed in the early morning fire on Stewart Avenue were Carol Crawford, 46; her daughter, Jennifer Crawford, 23; and Jennifer's children, Ranaisha, 8; Jeannine, 5; Alisha, 3; and Brandon, 2. Five other people survived the blaze.
Davis' appeals lawyer, John P. Laczko, who seeks a new trial for Davis, argued Wednesday before the three-judge panel that the confessions should have been excluded because they stemmed from the illegal arrest of Davis at his residence without a warrant or probable cause.
Laczko cited Davis' statement in a pretrial evidentiary hearing that he believed he was under arrest when he was handcuffed at his residence.
Noting that Davis was only 18, lacked a high school diploma and had a low IQ, Laczko said the judges must look "at the totality of the circumstances" when evaluating the arrest and interrogations and whether the confessions were voluntary.
Ralph Rivera, an assistant county prosecutor, who was arguing to uphold Davis' conviction and sentence, noted, however, that police went to the Davis residence because that was the source of the 911 call reporting the fire.
Davis was handcuffed for officers' safety while he was transported in a police car to the police station, but he was not formally arrested until after he confessed, Rivera said.
"Police officers are allowed to handcuff an individual for their safety, and it does not equate to a formal arrest," Rivera said.
Laczko complained that Judge Krichbaum abused his discretion when he admitted testimony from a neighbor, whose house was similarly torched three weeks before the fatal blaze.
The prosecution said that testimony was relevant to establishing Davis' identity, but Laczko noted that Davis was never charged with setting that fire and that the neighbor wasn't even able to identify Davis in the courtroom.
Rivera said the neighbor couldn't identify Davis because he couldn't see well and didn't have his glasses on when the pre-sunrise fire occurred. Even with Davis' confessions, "There was some issue of identity," Rivera said.
"It wasn't at all for the purpose of identity. It was for the purpose of prejudicing the jury, which is obviously what happened," Laczko said. "Identity, at that point in the trial, was not an issue," he added.
Even if Judge Krichbaum erred in admitting the testimony about the earlier blaze, "It seems to me that there's overwhelming other evidence of guilt," said Judge Joseph J. Vukovich.
The appeals panel, which included Judges Gene Donofrio and Cheryl L. Waite, took the case under advisement and will issue a written decision at a later date.