Family seeks in-person meeting with governor
Cornwell Clemency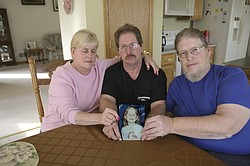 Video
"He got away with murder," Jessica's aunt, Connie Ressler of Girard, said of Sidney Cornwell.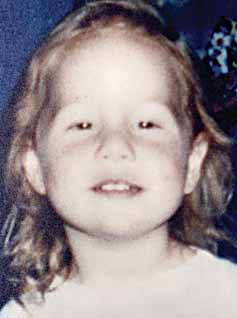 Photo
3-year-old Jessica Ballew (1996)
GIRARD
The father, aunt and uncle of 3-year-old Jessica Ballew expressed outrage at Gov. Ted Strickland's decision to grant clemency to her killer.
"He got away with murder," Jessica's aunt, Connie Ressler of Girard, said of Sidney Cornwell.
Ressler and Jessica's father, Virgil Ballew of Girard, said they believe the governor would not have granted clemency if it was not for his political lame-duck status.
"Now, he has nobody to answer to," Ballew said.
"We can't believe that he would stoop to that level and give clemency to someone who's a baby killer. I mean we're outraged over it. It's unbelievable that he took her death so lightly," Ressler added.
"There is a higher justice than Ted Strickland," Ressler said, with her brother, Virgil, concurring.
Jessica was shot to death June 11, 1996, on the city's North Side. Cornwell was sentenced to die by execution after a 1997 trial.
Ressler said she was notified of the governor's clemency decision at 9:30 am. Monday in a phone call from a crime-victim advocate in the Ohio Attorney General's office. Cornwell had been scheduled to die by lethal injection today.
"Ted Strickland: I've got to ask you this. If it was your daughter, what would your decision be? Would it be the same?" asked Ballew, who said he'd like to have a face-to-face meeting with the governor.
"[Cornwell] went out and got in a gang when he was young and started carrying guns and stuff. That didn't have anything to do with his parents. That was him, and he had a mind of his own," said Jessica's uncle, Steve Ballew, of Hubbard.
As for the defense claim that Cornwell suffers from a genetic disorder and an abusive upbringing, Ressler said: "Do you know how many people in this world grew up abused? That's baloney. They had to come up with something to stop his death, and they came up with this bogus crap. All of his brothers and sisters, they're fine. What happened to him?"
"The genetic disorder, that's a crock. They stated at the clemency hearing that it had to be treated. Well, you know what, he's never been treated, and he's doing wonderful and he's 33 years old," she said of Cornwell.
At the request of Cornwell, who wrote to Virgil Ballew that he wanted to apologize for Jessica's death, the Ballews and Ressler visited Cornwell last month at the Ohio State Penitentiary, where he was on death row.
After Cornwell apologized, "I told him I had to forgive him, or God would never forgive me," Virgil Ballew said. "He also knew he was ready to die. He told me he was ready. He said: 'I'm ready now that you forgave me,''' Jessica's father recalled.
"He also said he wakes up every morning with Jessica's blood on his hands," Ressler said.
"You and I are going to pay for him the rest of his life. We paid for his whole trial. He never spent a dime. The public's paid for everything he's had so far, and now we're going to continue to pay," Ressler told a reporter.
"The death penalty is not something that I always go for. But, in the case of a baby, I mean, if you don't get the death penalty for killing an innocent baby, what good is the death penalty?" Ressler asked. "There is no justice. She never got justice."
"These younger kids are going to think, 'Well, this guy [Cornwell] can get away with it. Why can't we?'" Steve Ballew added.
The police officer who investigated the Cornwell case also expressed his disappointment with the governor's decision.
Detective Sgt. William Ross, investigator in the 1996 shooting, was preparing to travel to Columbus on Monday morning as a witness to Cornwell's execution when he received word the death sentence had been lifted.
The Cornwell investigation had been one of Ross' early investigations after his promotion to detective.
Ross remembers the incident well. The shooting he said happened late at night, and investigators had to work hard and fast to get to the truth of what took place.
"It took a lot of time to investigate this case and get everything straight because no one was telling us what happened," he said. "When you have that many suspects it takes a while to get the truth out."
Ross said he, Detective Sgt. Jose Morales, who also investigated the shooting, and other officers in the department ultimately got enough evidence to determine who shot Jessica, and he feels the right person was convicted.
Ross said he understands the need to make sure the right person is convicted before the death penalty is carried out, but said he is absolutely certain the right man was arrested. He said he believes the death sentence was the right sentence because of Cornwell's demeanor after the shooting.
"The biggest thing I remember is the total lack of emotion in Cornwell over the shooting. That's the reason for my disappointment. You have a guy who killed a 3-year-old girl and just didn't seem to care," Ross said.