A gangland killer showed no respect for life and gets better than he deserved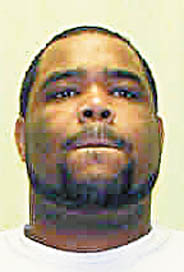 Photo
Klinefelter syndrome
Gov. Strictland has overturned Sidney Cornwell's execution based on the fact he has been diagnosed with Klinefelter syndrome.
What is Klinefelter syndrome?
A genetic disorder, affecting only males with one or more extra X chromosomes. This can cause males to have physical traits such as breasts or small testicles. It occurs in about 1 out of 1,000 males.
What are the symptoms?
Sparse body hair, enlarged breasts and wide hips. The testicles remain small and in some cases, the penis does not reach adult size. Men with syndrome usually cannot father children. Language and learning problems are also possible. It is usually not diagnosed until the time of puberty.
How is it treated?
Males with Klinefelter syndrome can be given testosterone. If treatment is started around the age of puberty, it can help a boy have more normal body development.
Source: WebMD
Sidney Cornwell should have died this morning.
Had he, his debt to society may have been paid, but his death would not have risen to a fair trade for the young, innocent life he snuffed out 14 years ago. Cornwell willingly lived the life of a gangbanger, battling over turf and religiously following the rule of an eye for an eye. You shoot at his gang, and he's going to shoot at yours.
That's exactly what he was doing July 11, 1996 — playing the role of enforcer — when he opened fire from the back seat of a stolen car on a group of people standing on the porch of a house on Oak Park Lane. Cornwell and his fellow Crips had gone gunning for Richard "Boom" Miles, a member of the rival Bloods. And even though he knew Miles wasn't on the porch, he opened fire. He wanted to send a message.
He wounded three adults and killed Jessica Ballew, a 3-year-old child who woke up in the night and came to the door to ask her aunt for a drink of water.
The efforts of many
It took good police work to build the case against Cornwell. It took a strong prosecution to win a conviction on multiple counts, including aggravated murder. It took a dedicated jury to sit through the testimony and recommend the death penalty. And over the years the state expended its resources successfully fighting to preserve the conviction and the sentence in state and federal appeals courts.
All of that work — that dedication to justice — was to culminate this morning when Cornwell was to be executed by lethal injection.
However, Gov. Ted Strickland intervened, issuing a commutation based on the suggestion that if the jury had been given more details about Cornwell's health problems, one or more jurors might have voted to spare Cornwell's life.
It was an argument that had been made by Cornwell's lawyers in recent years and had resonated with one of three appeals court judges and with one of eight members of the Ohio Adult Parole Authority. The appeals court upheld Cornwell's sentence and seven members of the Parole Authority had recommended against clemency. But Strickland cast one vote with the minority Monday, and that one vote is all that was needed to spare Cornwell's life.
A lame duck governor commuting the death sentence of a Youngstown child killer has a sadly familiar ring to it.
What happened last time
In January 1991, Gov. Richard F. Celeste shocked the state by commuting the death sentences of eight murderers on Ohio's death row days before he left office. Among them was Rosalie Grant, who had been convicted of setting a fire that killed her two young children in 1983 in a scheme to collect insurance money. Celeste's rationale in the Grant case was that she may have been suffering postpartum depression.
Though a governor's right to commute sentences is almost absolute, it is unsettling to see governors seize on tidbits of information to overrule the considered judgment of juries and judges who sat through days of trial, heard hours of testimony and examined dozens of often-gruesome exhibits to reach their verdicts.
We cannot fairly compare Strickland to Celeste on commutations. Celeste was an avowed opponent of capital punishment who issued eight pre-emptive commutations on his way out the door. Strickland has had the difficult job of signing 17 death warrants during his four-year term and acted in the Cornwell case only because the execution was scheduled on Strickland's watch.
That, however, is of no consolation to the family of Jessica Ballew or to a community that is wracked by gang violence even today and is hungry for any message that can be sent to thugs that there are consequences for their disregard for innocent lives.
A brother seeks justice
That Strickland can be touched by the story of a young man's hard life is commendable. We wish, though, that he had been more touched by the pain of Ray Kennedy, who was 7 years old the night his sister was gunned down by Sidney Cornwell. In a letter to the governor that was part of the clemency documentation, Ray wrote of hearing gunshots and "looking out the window, there was Jessica laying on the porch and blood was coming out of her, then I was told my sister was dead."
His letter recounted the pain that night brought to his life and the lives of others. He wrote: "I am now 21 years old and I can still close my eyes and live that night all over again." He asked that the sister he was unable to protect so long ago be given justice by the governor.
The closest to justice that Jessica's relatives can hope for now is that Cornwell will spend the rest of his life in prison. Strickland disallowed any chance of parole.
Which is better than Celeste did in the name of justice. Rosalie Grant, now 50, will have a parole hearing in 2013.