Another frustrating finish ends YSU season
2010 YSU 24 - Indiana State 30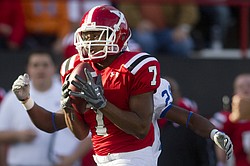 Gallery
2010 Football YSU 24 - Indiana State 30
By Joe Scalzo
YOUNGSTOWN
The final pass of Saturday's game, YSU's season and Dominique Barnes' storied career floated up and out of the end zone, a fitting coda to one of the most exciting — and frustrating — years in Penguins history.
And as the rest of the team gathered toward the middle of the field, Barnes stayed in the end zone, lying flat on his stomach near the "I" in Penguins.
Finally, after 20 seconds, three teammates helped him up.
"I played a lot of games here, 30-some games as a Penguin," he said afterward, holding back tears. "I don't know. It's emotional. I got all kind of feelings right now. I'm just lost for words.
"I hate to see it end."
For the seventh straight week, he also hated to see how it ended.
In a season full of heartbreaking losses, Saturday's was as bad as any, only this time it was YSU's offense that couldn't make a play in the final seconds as the Penguins lost the Indiana State for the first time in 15 years, 30-24, at Stambaugh Stadium.
"I think we still believed right there to the end of the game that we were gonna win it," Penguins coach Eric Wolford said. "We just couldn't make a play."
After falling behind 30-17 early in the third quarter, it looked like the Penguins were doomed to finish a disappointing season with a thud.
But YSU's defense stiffened, the Sycamores' coaching staff got conservative and the Penguins cut the deficit to six on a 1-yard TD run by Adaris Bellamy with just under two minutes left in the third quarter.
YSU had three possessions in INS territory in the final quarter but, each time, came away without a score. The last two drives were the most costly, as Wolford bypassed a 35-yard field goal attempt on fourth-and-3 midway through the quarter in favor of a pass.
But QB Kurt Hess was picked off in the end zone — his fourth interception of the day — to end the threat.
After forcing a Sycamore punt, YSU got the ball back with at its own 21 with 2:19 left and no timeouts. The Penguins promptly marched 68 yards over the next 11 plays, with Hess picking up a huge fourth-and-14 by scrambling 16 yards to keep the drive alive.
On third-and-6 from the 11, Hess tried to hit Barnes in the end zone, but the ball was tipped away. That set up the game's final play, where Hess again tried to find Barnes in tight coverage. It would have been tough even with a perfect throw but the pass went too high.
"It's unfortunate that we were unable to find a way to make a play," Wolford said. "That's kind of the situation we're in right now.
"We gotta find a way when your number's called to make a play."
Hess injured his foot in last week's loss to Illinois State and didn't look 100 percent all afternoon, completing just 12 of 27 passes for 191 yards and no touchdowns.
His counterpart, Ronnie Fouch, completed 16 of 23 passes for 290 yards, four TDs and an interception, with most of those coming in the first half.
After taking the 17-point lead, Indiana State inexplicably went away from testing the YSU secondary deep, attempting just eight passes in the second half compared to 15 runs.
Regardless, the Sycamores (6-4, 4-3) snapped a 36-game road losing streak and matched the most league victories they've had since joining the Missouri Valley Football Conference in 1985.
YSU (3-8, 1-7), meanwhile, is guaranteed to finish alone in the league basement. And Wolford vowed to spend the offseason developing his players — and recruiting others — to avoid a repeat next fall.
"We've got some work to do; you guys can see that," he said. "We've gotta start improving from today on."
---
YSU Notebook
Big-play (and career) Barnes: Senior wide receiver Dominique Barnes caught 10 passes for 132 yards to cap a terrific career. Barnes finished the season with 67 receptions for 911 yards, becoming the first receiver in school history to catch 60 passes in two seasons. (Barnes had 60 catches for 762 yards last year.) For his career, Barnes moved up to fifth on the career yardage list with 2,062. His 168 career catches are second all-time behind Jim Ferranti's 186. He caught a pass in his last 34 games, which is first all-time. "I think me and the seniors, we all left it all out there," Barnes said. "For some this is our last game playing football. We didn't get the result but maybe some of us can feel good about ourselves." Barnes also completed his first carer pass attempt Saturday, hitting WR Ely Ducatel for a 50-yard pass midway through the fourth quarter. "We've been working on it in practice," said Barnes. "I told Ely I was gonna get him the ball. He caught it, we completed it. It was a big play."
Freshman record: Redshirt freshman QB Kurt Hess had a rough day Saturday throwing four interceptions, but finished the year in good company. His 2,117 yards were the most by a freshman and the seventh-most in school history, just behind Ron Jaworski's 2,123 yards in 1972. Jeff Ryan holds the top spot with 2,573 yards in 1999. "The future's bright for Kurt," Barnes said. "He's still a freshman, he's still young and he had a great year. He did a lot of good things and I enjoyed playing with him."
Big play replay: After the Penguins gave up two quick passing touchdowns in the first quarter, the coaches switched senior CB Brandian Ross to safety, where he intercepted a pass late in the third quarter. He then ran to the sideline and threw the ball to former teammate Lenny Wicks. "He was the guy who told me, if you ever get a pick, put it in the stands with somebody you can trust," said Ross, who also tied for the team lead with eight tackles, forced a fumble and recovered a fumble. "He's the first one I saw, so I ran to him and threw him the ball. Hopefully he's still got it."
Cook ranks high: Sophomore RB Jamaine Cook finished with 1,276 yards, the 12th-highest total in school history. Marcus Mason, who rushed for 1,847 yards in 2006, is first.