Photo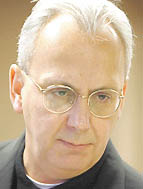 Photo
2011 budget increase needed for pay raises, prosecutor argues
YOUNGSTOWN
Mahoning County Prosecutor Paul J. Gains said he needs nearly a 60 percent increase in his budget over this year's level so he can pay his staff competitive salaries and thereby prevent more staff turnover.
In a Monday budget hearing before the county commissioners, Gains requested 2011 general fund budgets of $2,708,284 for his criminal division and $1,384,499 for his civil division. The civil division defends county agencies and townships against civil lawsuits.
In 2010, the funds available for the criminal division total $1.8 million, and the civil division's funds total $768,000. The 2009 figures were $2,214,512 and $868,157, respectively.
Because of the county's financial woes, Gains noted that the lawyers on his staff took a 15 percent pay cut through furlough days between April 1 and Aug. 1 of this year and 10 percent thereafter, with Gains taking a commensurate cut. The office's nonlawyers have taken a 10 percent pay cut through furlough days since April 1, he said.
The prosecutor's office has 24 full-time and nine part-time lawyers, with five full-time lawyer vacancies and one part-time lawyer vacancy. It has 14 nonlawyers on its staff and 13 nonlawyer vacancies.
Since he took office in 1997, Gains said he has lost nine lawyers to other county agencies, five to city agencies, three to federal agencies and six more, either to other county prosecutor's offices or the Ohio Attorney General's office.
"It's primarily because of the low pay that these lawyers have consistently received here," Gains told the commissioners, adding that the shortage of clerical staff forces his prosecutors to do their own typing.
"We've tried our best to live within this budget," Gains said. "I'm not going to be able to function if I receive the same amount," in 2011, he added. An understaffed prosecutor's office will result in a backlog of court cases and an overcrowded jail, Gains warned the commissioners.
"It's a severe morale factor. It contributes to a high turnover, which makes for an inefficient operation," Gains said of the low pay.
County Administrator George J. Tablack said there's a high price to be paid for professional employee turnover in terms of lost "institutional knowledge."
The workload comes steadily to the prosecutor's office, and the pay cuts through furlough days "just upset people and make them bitter," said Linette Stratford, the office's civil division chief.
Stratford noted that none of Youngstown's city prosecutors makes less than $61,000 a year. Salaries for Gains' full-time assistant prosecutors range from $46,000 to $79,000 annually, minus their 10 percent pay cuts, and only those with more than 10 years' experience make more than $60,000, according to prosecutor's office figures.
The workload of the prosecutor's office has increased because it has assumed the duties of the human resources department, with the county having left the HR director's job vacant for almost two years, Gains noted.
Gains is asking for a large increase in what the county budget commission says are extremely tough times.
The budget commission, consisting of Gains, County Treasurer Lisa A. Antonini and County Auditor Michael V. Sciortino, has certified next year's general fund revenue to be $51,412,860, compared with $53,094,744 for 2010.
The 2010 figure was reduced in March from $57,057,678 due to the recession-induced shortage of county revenues, primarily the shortage of sales-tax revenues, said Carol McFall, chief deputy county auditor.