Ursuline begins quest for 3-peat with win
Ursuline Vs. South Range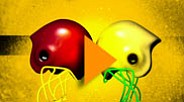 Video
Team

| Record | Div. | Conf. |
| --- | --- | --- |
| 2/8 | Div. IV | Independents |
Team

| Record | Div. | Conf. |
| --- | --- | --- |
| 13/1 | Div. V | Independents |
YOUNGSTOWN
Ursuline guard Mike Zappa stood on the turf at Stambaugh Stadium and looked around with the realization that he had just played his last game at Stambaugh Stadium.
Zappa was a member of an Irish senior class which had never lost a home game at Stambaugh (25-0) in their four years at Ursuline.
Almost as if on cue, Zappa snapped out of the trance and began to realize that this night wasn't the end of something special but rather the beginning of Ursuline's defense of back-to-back state titles.
The Irish (11-0) opened the post-season with a 55-22 win over Inter Tri-County League opponent South Range onSaturday night.
"I'm gonna miss playing here," said Zappa. "Coach [Dan Reardon]pointed out that we've never lost a home game here but more importantly its exciting because there aren't too many teams in the state of Ohio that have three-peated in state title games and tonight was the start of reaching that goal."
Teammate Frank Dundee was just as proud of his class's accomplishments but said that those numbers wouldn't mean much without another ring.
"It's sad but exciting that we finished out with a win," Dundee said. "We took this South Range game very seriously because they were just another team that stood in the way of our goal of a state title."
Ursuline shrugged off an opening punch by the Raiders (7-4) who scored on a 34-yard field goal by Ethan Witmer on the team's first drive.
South Range recovered Ursuline's onside kick attempt and drove down to the Irish 16 before kicking the field goal and grabbing a quick 3-0 lead.
After that it was all Ursuline.
"I think our kids did a nice job tonight," said Reardon. "We were able to get a lot of young kids acclimated to playoff football in the second half."
Ursuline's Akise Teague displayed all of his skills, rushing for 144 yards on 13 carries and a touchdown all in the first half. The senior also caught three passes for 57 yards including a 29-yarder for a score with no time on the second-quarter clock.
Teague also intercepted a pass and returned a kickoff 47 yards as the Irish rolled up 461 yards of offense and 21 first downs.
South Range, to its credit, was able to move the ball on Ursuline at times.
"We threw everything at them that we could," said South Range coach Dan Yeagley, "and moved the ball at times and put some points on the board.
"Ursuline is a well-coached team with great athletes but it was fun to go up against them at a great venue here."
The Raiders rushed for 233 yards and threw for another 112. Phillip Arsuffi led South Range with 94 yards on 11 carries while Floyd Kenney added 67 on 18.