Campbell mayor is glad levy passed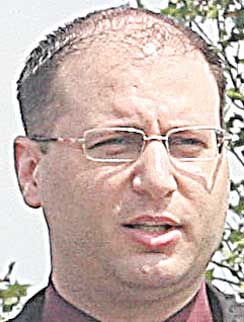 Photo
Campbell Mayor George Krinos
By Jeanne Starmack
CAMPBELL
There would have been a better way to raise the money the city needs to keep operating than the new 3.5-mill levy, Mayor George Krinos believes.
The five-year property tax levy, which voters passed 56 percent to 44 percent Tuesday, gives the city enough operating money to keep its doors open. Officials had been worried about a shutdown since Paul Marshall, chairman of a state commission that oversees Campbell while it's in fiscal emergency, said in April that was a real possibility as early as this month.
The city council decided in the spring to ask voters for 5 mills of additional taxes — 3.5 mills for general-fund expenses and 1.5 mills for streets.
It later decided that it had a better chance of passing just one of the levies and opted for only the 3.5 mills.
Krinos said Wednesday that even though he didn't believe the levy was necessary, he's glad it passed.
"I'm grateful the citizens pulled together, but it would have been more beneficial to do this another way," he said.
Krinos said he originally supported asking for new taxes when the council was considering 5 mills, because that at least would mean the streets could be fixed.
But to raise money simply for the general fund, he said, a streetlight fee and a $100-per-unit-per-year landlord registration fee would have been the better way to go.
Krinos said a streetlight assessment on each household would have raised $120,000. He said that, coupled with the rental-unit fee's raising between $120,000 and $130,000, could have raised operating money of at least $240,000 at less cost to residents.
Residents would have paid $36 a year for street lights, and that would have freed up $120,000 that now comes out of the general fund, he said. He said that would have cost residents less than the levy. Someone with a $100,000 house will pay $107 more in taxes now per year.
Krinos argued that landlords will now pass along their tax increase — giving an example of $120 in new taxes for a $30,000 house— to their tenants, while homeowners have to pay the tax.
Finance Director Sherman Miles said, however, that Krinos' figures are not correct. According to a formula from the county auditor, a house will be assessed at 35 percent of its market value. A $30,000 house will actually cost its owner $34 more a year in taxes, according to the county's formula.
That still leaves a $36 streetlight fee vs. $107 in new taxes for people with a $100,000 house. The council began talking about a streetlight-assessment fee early this year, but by the end of February, that talk was on a back burner.
At the time, the city was under orders to balance the 2010 budget, which had a $463,000 deficit. It reworked the budget and eliminated the deficit.
The streetlight-assessment fee, seen as no longer necessary, never made it back onto the council floor.
The landlord fee, however, is generally considered unworkable by council at $100 a unit.
The city is proposing a $25-per-unit fee.
"A $100 fee would have resulted in litigation against the city," Miles said. Youngstown faced a suit over its proposal of $20 a unit for the first unit and $15 for each additional one. The Mahoning Valley Real Estate Investors Association withdrew its suit in July but reserved the right to refile it.
Sherry DeMar, president of the association, said such a high fee would punish good landlords.
"You cannot do this to good landlords," said DeMar, who owns two rental properties in Campbell and more in Youngstown. "We will move out of town."
Bill West, who has two houses and a six-plex in Campbell, agreed it's not fair to punish good landlords.
He said he already has a lot of expenses tied up in his properties by having to be responsible for tenants' unpaid water bills and for damage they cause. The city also already charges an occupancy fee on each unit, he pointed out.