---
Saturday, November 6, 2010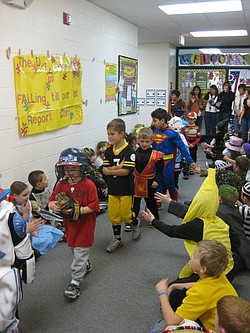 Photo
Kindergarten students at Hilltop Elementary School started the Halloween parade Oct. 29 amongst cheers and high fives.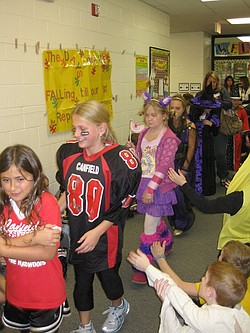 Photo
Students at Hilltop Elementary took turns parading through the school during the Halloween celebration Oct. 29.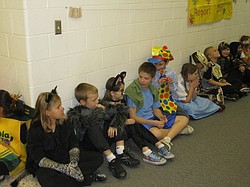 Photo
Fourth-grade students at Hilltop Elementary lined the hallways to wait for the start of the Halloween parade Oct. 29.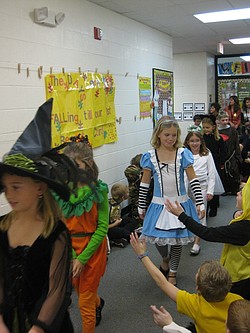 Photo
Third-graders at Hilltop Elementary paraded through the fourth-grade hallways during the school's Halloween celebration Oct. 29.
By ABBY SLANKER
Halloween spirit filled the air as students at Hilltop Elementary School paraded through the hallways dressed in costume Oct. 29.
Each grade had a turn to show off their costumes to the other students as they walked through the school. Many teachers and staff members also got into the Halloween spirit by dressing in costume.
The kindergartners paraded first and were cheered on and given high fives by their fellow students. After the kindergartners were the first-graders, followed by the second-graders, then third-graders and finally the fourth-graders.
Each grade offered a variety of costumes, from the very ornate to the very simple, from sports stars to movie stars and from literary characters to Disney characters.
After each class finished their parade for the students, they made their way to the gym where a packed house of family and friends were waiting to view the children in costume. Students were led onto the stage and introduced by class.
When they were finished with the parade, each class went back to their classroom for their Halloween party. PTO volunteers in each classroom provided games for the children to play, such as pumpkin ball and pin the nose on the pumpkin. There were also crafts for the children to make, such as Halloween picture frames.
The Hilltop Elementary PTO provided snacks and drinks for the parties.