---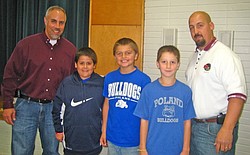 Photo
Neighbors | Submitted.DEA Agent Jim DeLuca, left, North Elementary fourth-graders Tallon Price, Scott Campbell, Bradley Perry and DEA Agent Erick Kochanowski posed for a picture during North's Red Ribbon Week.DeLuca and Kochanowski gave a presentation to the students about drugs.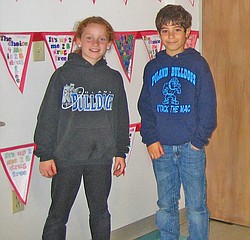 Photo
Neighbors | Submitted.Fourth-grader Lauren Sienciewicz (left) and third-grader Zachary Nemeth stood in front of a wall of drug free pledges as part of North Elementary's recognition of Red Ribbon Week.
Students at Dobbins, North and Union Elementary Schools in Poland celebrated Red Ribbon Week, Oct. 23-31, with several activities.
Each day, the students and staff dressed up according to the theme for the day. Monday was "Team Up Against Drugs" and students wore their favorite team T-shirt. Tuesday was "Celebrate Red Day" and everyone wore red.
Wednesday was "Color Day." Each grade level wore different colors. Thursday was "Bulldog Spirit Day" and everyone dressed in their best blue and white. Friday was "Say BOO to Drugs." Students and faculty dressed up in their Halloween costumes for the parade.
Students signed and colored pledge sheets mounted on a red pennant which were displayed in each building. The book "The Red Ribbon," by John Lasne, was read and discussed and the video "I Won't Do Drugs" was presented. The song "I Won't Do Drugs" was also sung in music classes.
Special Agents Erik Kochanowski and Jim DeLuca from the U.S. Dept of Drug Enforcement Administration gave a presentation to fourth-graders at North Elementary. Fourth-grade students read important facts about smoking, alcohol and other drugs daily.
Each student took home a pennant with the pledge attached to it for a reminder "2 B drug free."