Valley voters buck trend, but it's not enough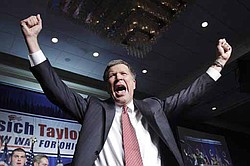 ASSOCIATED PRESS

Photo
Ohio Gov.-elect John Kasich celebrates a victory during the Ohio Republican Party celebration, Wednesday, Nov. 3, 2010, in Columbus, Ohio. (AP Photo/Tony Dejak)
Election Night 2010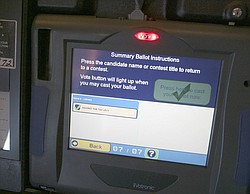 Gallery
YOUNGSTOWN
Voters in Mahoning and Trumbull counties came out strongly for most Democratic statewide voters, but it wasn't enough for any of them.
With 94.8 percent of the statewide vote reported, every statewide Democrat on the ticket was losing.
Except for Chief Justice Eric Brown of the Ohio Supreme Court and Mary Jane Trapp for a Supreme Court seat, every Democrat on the statewide ticket won in Mahoning County. Every statewide Democrat won in Trumbull County except Chief Justice Brown. Judicial candidates in Ohio run in partisan primaries, but don't have party affiliations in the general election.
Mahoning and Trumbull are two of the most Democratic counties in Ohio. Democrats outnumber Republicans among registered voters in those two counties more than 4 to 1.
Democrats outnumber Republicans among registered voters in Columbiana County almost 2 to 1 with a majority of voters there not affiliated with either party.
Every Democratic candidate lost in Columbiana County.
"The results were absolutely astounding to me," said Dave Johnson, Columbiana County Republican chairman. "The [Republican] candidates worked their heads off, but I must confess, I didn't expect this much of a plurality. It's the independents who decide. I'm not gloating. The races were hard fought. The nation is fed up with high taxes, reckless spending and anything that's liberal."
Gov. Ted Strickland, who represented Columbiana County in the U.S. House for four years, lost to Republican John Kasich in that county 48.3 percent to 47 percent. It was the closest statewide race in Columbiana County.
Strickland received 65.6 percent of the vote in Mahoning County and 61.4 percent in Trumbull County.
In Strickland's 2006 victory, he received 75.6 percent of the Mahoning County vote, 74.1 percent in Trumbull and 66 percent in Columbiana.
"It was not a good night," said Mahoning County Democratic Chairman David Betras said of Tuesday.
Betras had promised 80 percent of the Mahoning County vote to Strickland before the election.
"Republicans came out more than Democrats did," he said. "Our people sat home and their people came out. I hope the Republicans won't forget the Valley. We did what we could to make sure we weren't forgotten. I don't know if we fit into John Kasich's economic model."
Statewide, Kasich was ahead 49.8 percent to 46.2 percent for Strickland with 94.8 percent of the vote counted.
Shortly after 12:30 a.m. today, Strickland conceded the gubernatorial race to Kasich.
Attorney General Richard Cordray, a Democrat, trailed Republican Mike DeWine 48.4 percent to 45.4 percent with 94.8 percent of the vote counted.
In Mahoning, Cordray beat DeWine 65.2 percent to 29.9 percent.
Cordray won 61.3 percent to 32.8 percent in Trumbull with DeWine winning in Columbiana County 48.6 percent to 43.7 percent.