Sciortino, despite his indictment, and Righetti cruise in Mahoning
RELATED: Library officials see levy passage as 'vote of public confidence'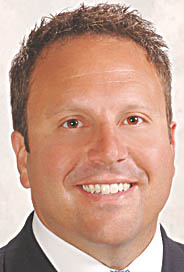 Photo
Mahoning County Auditor Michael Sciortino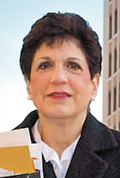 Photo
Election Night 2010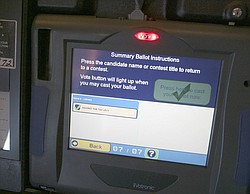 Gallery
By Peter H. Milliken
YOUNGSTOWN
A three-way race for Mahoning County auditor produced a victory for the indicted Democratic incumbent Michael V. Sciortino.
With nearly 95 percent of the vote counted, the results were 55 percent for Sciortino; 28 percent for his Republican opponent, Tracey Winbush; and 16 percent for his independent challenger, Joe Markovitch.
In the county commissioner's race, Democrat Carol Rimedio-Righetti won by almost a 2-1 margin of 66 percent to 34 percent for her Republican opponent, Don Manning.
During the campaign, Sciortino maintained his innocence in the Oakhill Renaissance Place scandal, in which he was indicted by a Mahoning County grand jury, and he said he was the only qualified candidate for auditor.
"What the voters did, I think, was listen to what I was saying: Judge me on my record. Judge me on my experience and qualifications," Sciortino said during his election night victory celebration at ITAM Post 3. "I strongly believe that I'm going to be exonerated."
Sciortino is one of eight defendants under indictment, who are charged with conspiring criminally to prevent or delay the relocation of the county's Department of Job and Family Services from Cafaro Co.-owned rented quarters to Oakhill, which the county bought in 2006.
Sciortino is charged with engaging in a pattern of corrupt activity, bribery, filing a false financial disclosure statement, soliciting or accepting improper compensation, and two counts each of conspiracy, perjury and conflict of interest.
As for qualifications, Sciortino pointed to his master's degree in public administration in government finance and to his law degree. Sciortino, who became auditor in 2005, also noted his accomplishments in improving the county's information technology functions.
Despite her lack of a college degree, Winbush said she had organized hundreds of people to conduct trade shows and managed multi-million dollar sales forces in the Los Angeles offices of Bristol-Myers-Squibb and Gillette. Winbush is a former Youngstown school board member.
Markovitch, who has a bachelor's degree in marketing and management, said his qualifications include his 20 years as owner of JBM Enterprises, an adaptive clothing and diabetic products business, which he founded in 1990.
Righetti, a retired board of elections clerk, who has been Youngstown's 4th Ward city councilwoman since 2003, defeated 12-year incumbent David N. Ludt, to win the May Democratic primary for county commissioner.
During her campaign, she promised a full-time, hands-on, commitment to the commissioners' office, with an open mind, an open-door policy and a willingness to listen to all points of view.
"I will work with the other two commissioners. We need to have a partnership. We need to work with other county officials," Righetti said at the ITAM celebration. "We need to make this a tighter ship. We need to have unity, and we need to work for the people of Mahoning County."
Manning, of North Lima, is a jewelry business manager, who ran unsuccessfully for Trumbull County commissioner in 2002 and for 17th District Congressman in 2006.