Library officials see levy passage as 'vote of public confidence'
Election Night 2010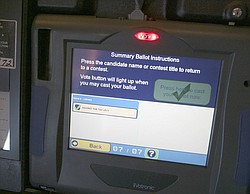 Gallery
By Peter H. MILLIKEN
YOUNGSTOWN
With nearly 95 percent of the vote counted, voters approved a 1.8-mill new operating levy for the Public Library of Youngstown and Mahoning County by a margin of 55 percent to 45 percent.
The five-year real-estate tax levy was designed to generate about $7,292,000 a year in operating and maintenance funds for the 16-branch library system.
Library officials had said passage of the new levy was necessary to offset declines in state funding, under which the system has suffered a 34-percent loss in state money since 2001.
"It was a vote of confidence by the public, and it's apparent that our community values libraries and recognizes their importance," said Janet Loew, the library system's communications and public relations director.
"We have really tried to focus on making the library relevant," and having it "make a difference in people's lives," said Library Director Carlton Sears, citing programs such as early literacy, services to seniors and advice concerning personal finance.
The three other county-wide levies were five-year renewals, which passed by comfortable margins of more than 2-1. They are 3 mills for the county Board of Developmental Disabilities, 0.85-mill for the county Children Services Board and a half-mill for the county Mental Health Board.
In Boardman Township, a 3.85-mill, five-year additional police levy was failing late in the evening with 94 percent of precincts reporting, 51 percent to 48 percent.
Passage of the levy, designed to raise $3,810,317 annually for the police department, was to expedite the trustees' goal of having 57 township police officers within the next five years. The township now has 49 officers.
"We hope to maintain our current level of staffing and continue to do what we're doing right now ... We'll do the best we can," Boardman Police Chief Jack Nichols said.
In Poland, a 3.9-mill, five-year additional emergency school levy was failing by a margin of 55 percent to 44 percent.
Dr. Robert L. Zorn, schools superintendent, told the voters the levy, designed to generate $1,485,900 annually, would be "critical" to keep the school district fiscally sound after cuts in state support.
Zorn said Tuesday night that the failed levy means tightening the budget even more than before. "The economy is terrible, so I'm sure that's driving everything here," he said.
In Canfield, voters were rejecting a 6.8-mill continuous new school levy designed to raise $3,793,502 annually by a margin of 58 percent to 41 percent.
Campbell voters said yes to a 3.5-mill, five-year additional current expense levy by a margin of 56 percent to 44 percent. That levy was designed to raise $277,279 annually for the city, which has been in fiscal emergency since 2004.