---
Tuesday, November 2, 2010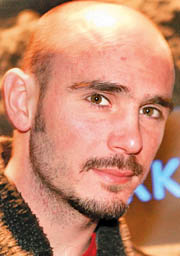 Photo
Kelly Pavlik (Chris Farina/Top Rank)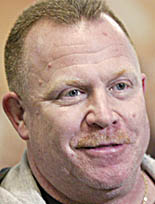 Photo
Jack Loew, Kelly Pavlik trainer during 1-10-08 workout at Southside Boxing Club. WD LEWIS
By Rob Todor
YOUNGSTOWN
Kelly Pavlik knew as soon as the punch landed. Something didn't feel right.
The Youngstown middleweight, and his camp, have opted to withdraw from his Nov. 13 fight against Brian Vera, on the undercard of the Manny Pacquiao-Antonio Margarito main event at Cowboys Stadium in suburban Dallas.
The fight was a non-title bout at a catchweight of 164 pounds.
Pavlik (36-2, 32 knockouts) was hitting pads at his training camp in Pennsylvania on Oct. 22 when he felt a "twitch" in his chest, said trainer Jack Loew.
"It didn't get better [and] didn't get better, so we decided to get a [cortisone] shot," recounted Loew.
The Pavlik team left the evening of Oct. 25 for New York to attend a press conference the following day.
They returned to Loew's South Side Boxing Club on Oct. 27, but Pavlik was too sore to spar.
They tried again the following day, but when Pavlik again complained of soreness, Loew made the decision to cancel the fight.
"We have to see what the extent of the injury is and go from there," said Top Rank spokesman Lee Samuels, who first heard about the news Monday afternoon from a reporter. "Obviously this is a stunner.
"Until [today] he was on the card. Now we're looking for a replacement."
According to Loew, cartilage in Pavlik's top right rib separated from the bone, causing extreme discomfort.
"It's just getting really repetitious right now, with all these nagging injuries," said Loew.
"Kelly was really doing well [in training for this fight]," he added. "It was the first time in four camps I didn't mind the media coming in during training."
A call was made to Pavlik's cell phone, but a message said his voice mail inbox was full.
"I'm sure [Pavlik's] upset," said Loew. "It's like a sprained ankle — it could take two weeks to heal, or two months.
"I know we're not going to decided anything until Kelly's 100 percent and he's able to resume training."
Pavlik hasn't fought since he lost a unanimous decision to Sergio Martinez on April 17, in Atlantic City, N.J.
Pavlik's co-manager, Cameron Dunkin, who is based in Las Vegas, had no details when contacted by The Vindicator midday Monday, but later told ESPN.com's Dan Rafel he was "heartbroken."
"I'm devastated, I'm sick to my stomach," Dunkin told ESPN.com. "This was such a great opportunity for Kelly, to be at Cowboys Stadium in front of who knows how many fans in a fun fight on a great show, a great event."
ESPN.com is reporting that the Pavlik team is looking at a fight against the winner of the Martinez-Paul Williams bout, scheduled for Nov. 20, or moving up to super middleweight to take on titleholder Lucian Bute.
Vindicator sports reporter Joe Scalzo contributed to this story.