Contest winners say Phantoms didn't award prize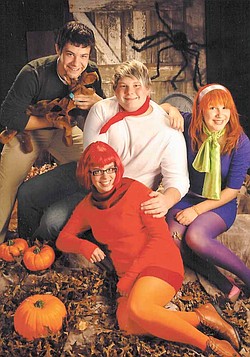 Photo
From top left, clockwise, Kyle Forward, Kevin Koncsol, Katelyn Lawrence and Maria Thompson dressed up as characters from the cartoon 'Scooby-Doo' for a costume contest Saturday at the Phantoms hockey game.
YOUNGSTOWN
A recent Halloween promotion at a Youngstown Phantoms hockey game has some contestants crying trick rather than treat.
Maria Thompson, Katelyn Lawrence, Kevin Koncsol and Kyle Forward, all students at Niles McKinley High School, dressed as characters from the cartoon "Scooby-Doo" for the Phantoms hockey game Saturday night at the Covelli Centre. They entered the costume contest and won, getting the most applause from the crowd, but did not receive $2,000 in cash and prizes that was advertised.
A press release from the Phantoms stated, "Families of three or more that come dressed in their Halloween costumes can be entered to win a grand prize of more than $2,000 in cash and prizes!"
"When they were signing up, the girl at the table did say, 'Are any of you over 18?' and they said, 'No,'" said Maria's mother, Theresa Liguori-Thompson, who was not present at the time.
A fellow attendee who was older than 18 offered to sign up with them, which was given apparent approval by those handling registration, Liguori-Thompson said.
The problem was that the four are not related and there was no parent or guardian present, said William Weimer, vice president of BJ Alan Co. Bruce Zoldan owns that company, which includes Phantom fireworks, and he also owns the Phantoms hockey team.
"It was clearly advertised as the best family costume," Weimer said.
An ad for the contest that appeared in Saturday's Vindicator on Page B7 read: "Halloween costume Contest! Grand Prize! $2,000 in cash and prizes to the best- dressed family! Best family in costume contest, 3 or more people in a family."
Weimer was unsure how the group was able to sign up if the rules prohibited them.
"Who knows?" he said. "They signed up. In the tumult of the pregame, lots of people are there, and they're not questioned in detail."
Each teen was offered a $250 gift certificate for Phantom fireworks, and an adult had to sign for the certificates because all four are under age 18, Weimer said.
Ohio law prohibits minors from purchasing fireworks and stipulates that those who do purchase consumer- fireworks products, such as firecrackers and bottle rockets, must sign an affidavit agreeing to transport them out of state within 48 hours of purchase if they are Ohio residents.
Liguori-Thompson said she did not feel comfortable signing for the prize once she arrived at the arena — and the teens asked that the prize be given to another contestant.
But that would have required the contest to be judged again, Weimer said.
"By that time, they would have had to start the contest over, and it was impractical. We'll run another contest and give the prizes away," he said.
Liguori-Thompson, a Realtor with Howard Hanna, sent a mass e-mail to friends and colleagues telling her daughter's story.
"Here's four great kids, not out drinking or causing havoc, and they're getting [mistreated]," Liguori-Thompson said.
Weimer said he thought the e-mail was libelous.
"I am truly sorry this happened," he said. "I wish it would have been approached a little differently."