1985 twisters changed lives
By ED RUNYAN
runyan@vindy.com
NILES
Tornado 1985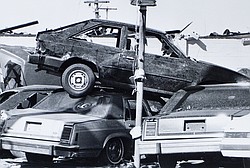 Video
Twenty-five years ago Monday, a devastating and unexpected tornado meant death to 19 people in Trumbull and Mercer counties, injury to several hundred others and devastation to buildings, trees and lives. A
1985 TORNADO | Fatalities
Evelyn Shaw Simmons, 42, of 848 Lawrence Ave., Girard.
Denise Mazza, 21, of 1259 S. State St., Girard. Mrs. Mazza was the daughter of Mrs. Simmons.
Marie Helen Sofranik, 54, of 3750 S. Leavitt Road, Lordstown.
Marion Jane Barnes, 64, of R.D. 1 Mercer.
Gladyla Gadman, Wheatland, Pa.
Michael Kurpe, 36, of 1373 Glenwood Drive, Sharon, Pa.
Rose Marie Leone, 75, of 1736 Masury Road, Masury.
Stanley Kostka, 25, of 637 Park Ave, Farrell, Pa.
Adam Laverty, 6, of 1120 Weitz Ave., Farrell.
Gladys Jackson, 72, of Wheatland, Pa.
Evan Evans, 69, of 1745 Thomas Road S.E., Hubbard.
Elaine Italiano, 39, of 6623 Harrington Ave., Youngstown.
Linda McMahon, 27, of 281 Roanoke Ave., Austintown.
Helen Thomas, 84, of 307 Hyde Ave., Niles.
Emma Yannucci, 67, of 903 Cynthia St., Niles.
Ernest Miller, 87, and Anna Miller, 79, of U.S. Route 422, Niles.
Margaret Palkovich, 69, living with the Millers in Niles.
Robert White Reynolds Sr., 31, of 83 Main St., Wheatland, Pa.
Twenty-five years ago Monday, a devastating and unexpected tornado meant death to 19 people in Trumbull and Mercer counties, injury to several hundred others and devastation to buildings, trees and lives.
As Garry Keefer of Lantern Lane in Niles looks back on May 31, 1985, having changed from a 31-year-old father of three youngsters to a 56-year-old father of three grown children, a different type of loss comes to mind.
"Everything was replaceable because none of us were hurt," Keefer said of the home he lost in the tornado that day as he and his family huddled in the basement.
"But there were pictures when the older kids were young — even the 1-year-old," he said. But after the storm? "No baby pictures."
Keefer said the twister picked up most of his family's belongings and blew them far away, never to be recovered.
Keefer spoke recently from the front porch of his home in the Shadow Ridge neighborhood near Niles Union Cemetery. He said the tornado also removed items that had been passed down from generation to generation.
"Things from parents or grandparents, whether it was furniture or knickknacks, those were all gone," he said. "I get a shiver every once in a while thinking about it, even though it's 25 years ago."
The Keefers were among about 20 families on Lantern Lane and nearby Pepperwood Drive whose houses were sucked up into the funnel cloud at about 7 p.m. that Friday night.
Just after passing through Keefer's neighborhood, the twister headed for the Niles Park Plaza and Top of The Strip roller rink, where it killed seven people along U.S. Route 422.
Because the Keefers were unaware that a tornado watch had been issued for Trumbull County two hours earlier and because no warning sirens informed them that the tornado had hit Newton Falls 20 minutes earlier, they were caught off guard.
"I came home late, and we ate dinner late, and we were all sitting at the table, and my wife at the time was feeding our baby, and she just happened to get up and put a dish in the sink and saw debris — she said it looked suspended and just kind of floating in the air.
"She called me over, and we looked at it, and then we could see the debris starting to move toward us, so we grabbed the kids, ran to the basement and in less than 10 seconds, it hit."
Even after the tornado had passed, blowing out the basement windows, Keefer was still not sure what had happened.
"It still didn't hit me that it was a tornado until my son got up on the couch in the basement, looked out the window after things calmed down, and he said, 'The neighbor's house is gone,' and I got up and looked. It was at that point I realized how bad it was. Up until that point, I just thought it was a bad storm."
The Keefers — Garry and Diane — had three children, John, 13; Yvonne, 4; Jennifer 10 months.
Garry says coming home late and eating supper late may have saved his family from a tragic fate. Normally, by 7 p.m., the Keefers were done with supper and doing various things around the yard and house.
After the tornado passed, Garry tried to open the basement door, but it was jammed shut because of the shifting of basement walls.
When neighbors rescued them about 30 minutes later, Garry saw that most of his two-story home was gone. "It was strange. No upstairs, no wall, no nothing. All that was left was a wall here and there on the first floor."
Even stranger was that certain things in the house were dropped a short distance away, others never found, others untouched.
For instance, Diane and Garry kept their clothes in the same closet. Diane never found any of her clothes, but Garry found his at the end of the driveway.
There was also a small grandfather clock in the living room right next to a very heavy couch.
"The couch was gone, but the grandfather's clock didn't move an inch. They were right next to each other. How it decided what to take, I don't know," Garry said.
To the east of the Keefers' home was a field, and neighbors found some of their things there. But the Keefers did not.
Garry had no idea until later that the possession he would miss most was his wallet. He took three weeks off from work at Packard Electric to provide a new place for his family to live.
"It [the three weeks] didn't begin to make a dent in it because I lost my wallet, so no driver's license, no ID. I couldn't even go to my bank and get money," he said.
Because the home was not fully insured and he didn't have an inventory of everything, Keefer says the insurance paid about $30,000 less than what the house and contents were worth.
Keefer said the 1985 tornado made him and his daughters very careful during storms.
"They're a lot more cautious and concerned when bad weather is coming," he said. "And I can't tell you how many nights I've spent in the basement myself."
Several minutes before the tornado hit the Keefers' house, the tornado was mowing down the houses on Shirley Parker's street, Woodglen Drive, off North Road.
Parker realized something was wrong when she looked out her kitchen window. "When I looked out, and I saw the house over there, it was just like a swirl, and I didn't even realize it was a tornado. Then I headed for the cellar with the dog."
The tornado damaged every house on the street, many of them beyond repair. The twister also took down nearly every tree. The trees blocked Parker in her house for a time.
In the years that followed the tornado, one of the most striking things people noticed was the absence of trees at Niles Union Cemetery.
In 25 years, a new set of trees has grown and replaced the 260 oak, maple, sycamore, beech and buckeye trees that once populated the landscape.
Chuck Davis, a backhoe operator at the cemetery, said only one tree still stands from 1985 — a pine tree in the front of the cemetery.
The tornado also badly damaged the cemetery's mausoleum, though false stories about the mausoleum were rampant.
"The mausoleum looked like a bombed-out building," Davis said. "There was rumors about bodies hanging in the trees," Davis said. "People always ask me about that. It wasn't true."
---
THE FACTS
Human toll: The dead in the Mahoning and Shenango valleys included 12 in Trumbull County (nine in Niles, one in Lordstown, one in Masury, one in Hubbard), and seven in Wheatland, Pa. More than 500 people were injured.
Property damage: $140 million.
The storm: At least four tornadoes ripped into Trumbull, Columbiana and Ashtabula counties, with as many as 21 hitting eastern Ohio, western Pennsylvania, western New York and parts of Canada.
Time line
5:05 p.m., a tornado touches down in Mesopotamia Township, Trumbull County, damaging several homes, then continues into Ashtabula County.
6:40 p.m., a second tornado tears through Newton Falls.
6:54 p.m., Niles is devastated by the tornado that first hit Newton Falls.
7 p.m., The twister hits Hubbard Township.
7:10 p.m., the storm completes its destruction in Wheatland, Pa.
7:35 p.m., a third tornado passes through Columbiana County south of Salem.
Source: Vindicator files, the book Tornado Watch No. 211, a compilation of local tornado facts.