Answering the call of duty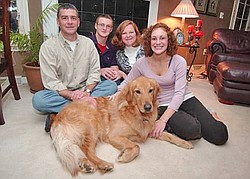 Photo
Neighbors | Submitted.Canfield's George McDonnell (clockwise from left), Alex Papiernik, Mary McDonnell Colleen Cecil enjoy each other's company. Papiernik and Cecil are employees at Canfield Computers LLC, McDonnell's private business.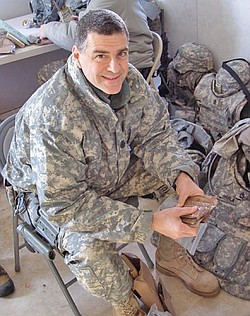 Photo
Neighbors | Submitted.Chief Petty Officer George McDonnell was called to active duty, from reserve status, in October to serve in Afghanistan. He has been in Navy for 17 years.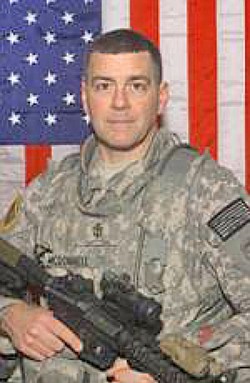 Photo
Neighbors | Submitted.Canfield resident George McDonnell is currently serving in Afghanistan as a part of a Provincial Reconstruction Team. He is a Chief Petty Officer in the U.S. Navy.
By SHAIYLA HAKEEM
As a reservist, it is almost impossible to know when you will be called upon and where you will be sent to serve.
Canfield resident George McDonnell, 47, was called to active duty in October to serve in Afghanistan. He is a Chief Petty Officer in the U.S. Navy.
McDonnell originally enlisted in 1980 because he wanted to tour the world while serving his country. This is exactly what he has done.
Prior deployments have landed him in Korea, Africa, Thailand and the Philippines, but this is his first deployment to an area classified as a war zone.
McDonnell is currently attached to a Provincial Reconstruction Team that is helping to rebuild Paktika, Afghanistan. The team is responsible for helping stabilize the government and rule of law.
"I get a sense of satisfaction from helping the Afghan people rebuild so that one day, they won't need our help to run their country," he said.
Though McDonnell is happy to be helping a country in need, there are sacrifices he is making to do so.
McDonnell has been married to his wife, Mary, for more than 20 years. This is the longest period of time they have been separated. Her initial reaction to the news of his deployment was both panic and surprise.
"I never really expected that he would go to Afghanistan," she said. "I had to catch my breath so that we could figure how to make the next year work."
Since he has been gone, communication between the two has been limited. Bad telephone reception has made it difficult to talk over the phone so the couple communicates mostly through e-mail.
"We talk on the phone about once a week," Mary said. "We tried to use Skype, but the connection was just too weak."
In addition to being separated from his wife, McDonnell has been pulled away from his business. In January 2006, McDonnell established Canfield Computers LLC. He is the owner/president and Mary is the director of business development for the company.
His absence has placed a heavy load on his associates, but he said they seem to be maintaining the company and its service.
"My employees have done a really good job of stepping up to the plate and pitching in," he said.
McDonnell is currently on leave from duty and vacationing with his wife. He will be relieved from active duty sometime in December.
McDonnell has devoted the past 17 years of his life to the military and plans on retiring as a reservist. He had made a commitment to himself, his country and his peers.
"I enjoy the camaraderie and working with other military professionals," he said. "I plan on doing 20 years."