I-80 crash casts pall on family occasion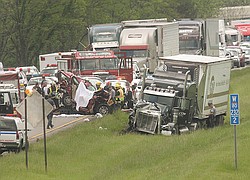 Photo
This fatal accident closed the eastbound lanes of Interstate 80 for several hours Monday. Three people in a sport-utility vehicle were killed afternoon when their vehicle was hit from behind by a tractor-trailer as traffic was slowing down for roadwork. The crash pinned the SUV between the truck and another tractor-trailer in front of it in Hubbard Township.
Another multi-vehicle accident involving a car and tractor-trailers happened just before noon March 24 on Interstate 80 East near where Monday's triple fatality occurred. Three semis were involved in that accident.
What happened: A tractor- trailer driven by Harold Morrison, 45, of Fredonia, Pa., hit the back of a car driven by Robert Bacon, 40, of Warren.
Bacon's car hit another tractor-trailer driven by Mieczyslaw Czynczyk, 49, of Chicago, which hit another semi driven by Josephine Miller, 49, of Lake Wales, Fla.
The only person injured was Bacon, who was taken to St. Elizabeth Health Center, Youngstown, with injuries not deemed to be life-threatening.
Morrison was cited for following too closely, the Ohio State Highway Patrol said.
By ED RUNYAN
WARREN
Three people killed Monday afternoon in a rear-end collision on Interstate 80 in Hubbard Township were sisters and brother, two of whom were returning to Arizona after attending the driver's 50th wedding anniversary in Warren over the weekend.
The three also were the mother, aunt and uncle of Capt. Janice Gilmore of the Warren Police Department.
A family friend confirmed Tuesday that Shirley Gilmore, 66, of Warren, was taking her brother and sister, David Westenfelder, 56, and Wendy Frost, 59, both of Surprise, Ariz., to the airport when the 1:50 p.m. accident occurred.
Capt. Gilmore's parents, Larry and Shirley Gilmore, celebrated their anniversary over the weekend, said Sherrey McMahon, a Gilmore family friend and Warren police officer. The Gilmores own Larry's Super Pawn on West Market Street in Warren.
Shirley Gilmore's sport-utility vehicle was traveling east near U.S. Route 62 when a tractor-trailer stopped in front of her because of road construction.
Gilmore was slowing when a tractor-trailer behind her failed to stop in time, striking the rear of the SUV and crushing it between the two trucks.
All three occupants of the SUV were pronounced dead at the scene. The two truck drivers were not seriously injured.
Wendy Frost worked at the 56th Squadron at Luke Air Force Base in Glendale, Ariz., as a student registrar, a spokesperson at the Air Force base confirmed. The squadron trains student pilots, the spokesperson said.
Gilmore family members did not wish to speak to the press, McMahon said.
Lt. Michael Orosz, commander of the Southington post of the Ohio State Highway Patrol, said the driver of the semi that hit the back of the SUV said he just didn't get stopped in time. That driver is Eugene R. White, 62, of Shiloh, Ohio, near Dayton.
"His basic statement was that he realized the traffic was stopped, and when he realized it was stopping, it was too late to stop," Orosz said.
Investigators found skid marks on the pavement indicating that White had tried to stop his loaded rig a couple of car lengths back from the point of contact.
An investigation is ongoing; a reconstructionist was brought to the scene Monday. It is unknown whether the driver of the truck was distracted, Orosz said.
The state patrol will await further information, such as the toxicology test results, before determining whether traffic or criminal charges will be filed against White.
"Obviously, he [White] is going to be at fault in the crash. Obviously, that will be a traffic charge. There's also the deaths involved," Lt. Orosz said. In such cases, the highway patrol usually takes evidence gathered to a grand jury to determine whether criminal charges are warranted, he said.
Orosz noted that there have been three serious accidents in that area within the past couple of months — two of them involving a tractor- trailer, plus another less- serious accident a week ago involving a semi.
Orosz said his post keeps in contact with the Ohio Department of Transportation to offer suggestions regarding safety in construction zones, but he doesn't have any specific suggestions for ODOT on ways to make that location safer.
There have been cases in which ODOT chose to carry out road projects at night to reduce accidents, he said.
As for this being the second triple-fatal accident involving a rear-end collision from a truck driver in Trumbull County in two months, Orosz said it doesn't indicate a trend.
Three local Marine Corps recruits were killed March 31 when the Pontiac G6 in which they were riding was rear-ended by a semi on state Route 5 in Leavittsburg.
So far this year, the highway patrol has investigated six fatal crashes that killed 10 people. At this time last year, there were six fatal crashes that killed six people in Trumbull County, Orosz said.