Dissenters in Oakhill purchase state their case
Oakhill Probe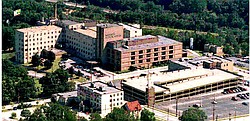 Video
Two Mahoning County Officeholders and one former officeholder - show why they still believe buying the former South Side Hospital was a bad choice.
By PETER H. MILLIKEN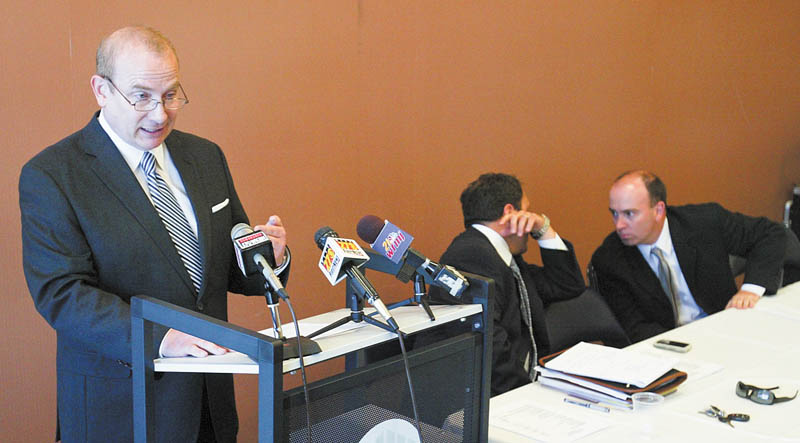 Photo
John B. Reardon, left, former Mahoning County treasurer, speaks to reporters at a news conference at the Covelli Centre concerning the county's purchase of Oakhill Renaissance Place as county Auditor Michael V. Sciortino, center, and Commissioner John A. McNally IV confer. Reardon, Sciortino and McNally said Tuesday that mounting Oakhill-related bills have substantiated their objections to the purchase.
milliken@vindy.com
YOUNGSTOWN
Two current Mahoning County officials and one former county official, who opposed the county's purchase of Oakhill Renaissance Place four years ago, say the accumulated costs of buying, operating and maintaining the former hospital since then have substantiated their objections.
The county can ill afford those costs at a time of financial crisis, they said.
At a Tuesday news conference at the Covelli Centre, Commissioner John A. McNally IV, Auditor Michael V. Sciortino and former county Treasurer John B. Reardon also emphatically denied any wrongdoing with regard to their opposition.
To date, the county has spent $9,961,541 on Oakhill and collected $4,393,051 in rent from its occupants for a net expenditure to date of $5,568,490, according to figures from the county auditor's office.
The expenses include utilities, maintenance and repairs, debt payments and architectural and legal fees.
An additional $5,809,671 in costs looms for real-estate taxes incurred before the county bought the building, an Ohio Department of Development loan, interest on capital bonds and remaining renovations, the auditor's figures show.
The commissioners' office did not respond Tuesday afternoon to a Vindicator request for a breakdown of annual rent, security and maintenance costs that the county would have incurred had its Department of Job and Family Services remained at the Garland Plaza on the city's East Side, owned by the Cafaro Co., but a receptionist there said the matter would be treated as a public-records request.
In 2006, Reardon recalled he said a new $15 million county-owned-and-operated office building would have been much cheaper than acquiring, maintaining and renovating Oakhill.
Sciortino said the Oakhill purchase is the county's equivalent of the Gulf of Mexico oil spill.
"We are in our disaster right now. We are in a complete financial meltdown," he said.
The three men added they haven't considered pleading guilty to any crime in connection with Oakhill if they were to be charged. They have not been indicted.
The extended grand jury and special prosecutors probing potential criminal conflicts of interest regarding the controversy concerning the Oakhill purchase have a June 3 deadline to complete their work.
McNally, Sciortino and Reardon said they have not been subpoenaed to testify before the grand jury, and they are declining the special prosecutors' invitation to testify before the panel.
Sciortino said he won't accept the invitation because he believes "the invitation itself was not fair and was disingenuous at best."
Reardon, Sciortino and McNally said the Oakhill special prosecutors — Paul M. Nick and Dennis P. Will — have not made any plea-bargain offers to them under which they could plead guilty to an information rather than face a possible indictment. The filing of an information usually means the defendant won't contest the charges.
"I haven't even considered pleading guilty, for heaven's sake, to anything. I haven't done anything wrong," Reardon said.
McNally said he will not resign as a county commissioner if he's indicted. Sciortino said the same during his recent successful Democratic primary re-election campaign.
Reardon said he met with the special prosecutors and their investigators on three occasions, with each interview lasting several hours.
"They didn't care about my side of the story, and they don't care about why I opposed Oakhill," Reardon said.
He added the special prosecutors declined his offer to take a lie-detector test concerning the Oak-
hill matter.
"I've told them everything, and I've told them the truth as to why I opposed Oakhill," he said. "If the grand jury has an opportunity to honestly hear why I opposed Oakhill, then, quite frankly, I'm confident I will not be charged with a crime.
"This is real scary stuff. They're trying to charge me with a crime that I didn't commit," Reardon added. "I am very proud of the stance that I took in opposition to Oakhill."
McNally and Sciortino said they haven't spoken to the Oakhill investigators.
Will and Nick could not be reached for comment.
McNally, Reardon and Sciortino met with Anthony M. Cafaro Sr., then president of the Cafaro Co., in Cafaro's office on the day that the county bought Oakhill in U.S. Bankruptcy Court in 2006. Oakhill is the former Forum Health Southside Medical Center.
Cafaro, the former landlord for the county's Department of Job and Family Services at Garland Plaza, sued the county in an unsuccessful attempt to rescind the county's purchase of Oakhill, to which the county moved JFS in 2007.
McNally said he makes no apologies for discussing county business with Cafaro, and he would enter into such discussions with anyone else who lives in or does business in the county.
"Our opposition wasn't about the Garland Plaza. That wasn't the point. Our opposition was based on our belief that Oakhill was a bad idea," Reardon said.
"In 2006, we were fearful that Oakhill had the potential of bankrupting Mahoning County, and, sadly, we now understand that it already has," Reardon added.
"The true bottom line is that the building is a money pit and it was a bad deal," Sciortino said.
Commissioners Anthony T. Traficanti and David N. Ludt, who supported the Oakhill purchase, have said the project is justified as a long-term investment in a One-Stop shop that brings city and county offices and social-service agencies together.