Jurors convict Warren man of murder
By Ed Runyan & Jordan Cohen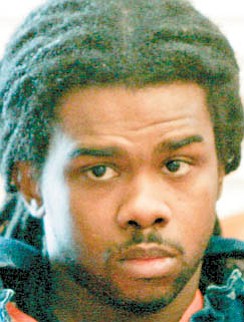 Photo
WARREN — A jury found Eugene Henderson guilty of killing Lloyd McCoy Jr., 11, and Marvin Chaney, 26, at a house on Wick Street Southeast in April 2009, but found him innocent of most of the gun charges filed against him.
Chris Becker, a veteran assistant Trumbull County prosecutor, said it was one of the strangest verdicts he's ever seen, but he still expects Henderson to spend at least 38 years to life in prison.
Judge John M. Stuard of Trumbull County Common Pleas Court is expected to sentence Henderson in about a month.
Police say Henderson, 25, of Warren, fired 24 shots from an assault rifle into the house to kill Chaney because Henderson and co-defendant Eugene Cumberbatch, 27, of Warren, thought Chaney had stolen $3,000 from them.
Cumberbatch received a prison sentence of 38 years to life for his role in the crime. A third co-defendant, Marcus Yager, 23, of Warren, said Cumberbatch only fired once into the house before his gun jammed. Yager is hoping for a one-year prison sentence for cooperating with authorities.
The jury found Henderson guilty of two counts of aggravated murder, two counts of murder and one count of felonious assault but found him innocent of using a gun in commission of the crimes.
The jury also found Henderson innocent of firing a weapon into the home but said he was guilty of possessing a firearm.
Afterwards, one juror who declined to be identified said "everybody" in the jury agreed that Henderson killed McCoy and Chaney and injured McCoy's young nephew, but "most felt there wasn't enough evidence to put the gun in [Henderson's] hand."
McCoy's father, Lloyd McCoy Sr., said on the way out of the courthouse he would reserve comment because he didn't fully understand the verdict.
In final arguments earlier Monday, Atty. Becker told the jury that "reason and common sense" should prevail in finding Henderson guilty and described the evidence as "pretty darn clear." He cited the testimony of Yeager who testified he was with Henderson and Cumberbatch when Henderson fired the fatal shots.
"Who chose to get a gun [and do this]?" Becker asked the jury. "[Henderson] did and that's specific intent."
Henderson's defense attorney, John Fowler, responded by describing Becker's case as "disingenuous" and repeatedly referred to Yager as "a liar." Yager had admitted lying to police early in the investigation and later changed his statement after negotiating a plea bargain for lesser criminal charges.
The defense attorney told the jury Warren police "tailored the evidence" to get Henderson by failing to get fingerprints and relying on insufficient DNA tests to prove a cell phone and sunglasses found at the scene belonged to Henderson. Yager had testified that Henderson handed both items to Cumberbatch moments before shooting the rifle and that Cumberbatch dropped them when he fired a revolver at the home.
"This is a cover-up for a poor investigation," Fowler argued.
Becker in his rebuttal called Fowler's points "red herrings."
Last week, a health center on Niles Road was named in memory of Lloyd McCoy.