Simon Roofing bringing jobs home
By GRACE WYLER
gwyler@vindy.com
STRUTHERS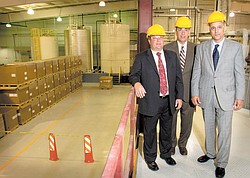 Photo
Simon Roofing owners, from left, Anthony Vross, Alex Simon and Jamie Simon, show off their new manufacturing facility in Struthers. The new plant has the potential to employ up to 80 workers.
A family-owned business based in the Mahoning Valley for more than 100 years has made another major investment in the community with the addition of a new state-of-the-art manufacturing plant and sports complex.
Simon Roofing, which makes and installs commercial roofing and flooring products, recently opened a new 42,000-square-foot manufacturing facility at 276 State St.
Simon Roofing, which has 500 employees and 52 service locations across the country, has been based in Boardman since 1900 but, until recently, all manufacturing took place at facilities in Cleveland and Charlotte, N.C.
But the company has doubled in size over the past eight years and needed to expand its manufacturing capacity, said co-owner Anthony Vross. So Vross and his partners Alex and Jamie Simon, grandsons of original owner James Simon, decided to expand the business in their hometown.
The plant uses state-of-the-art machinery and software that have increased efficiency and doubled the company's output, said plant manager Mike Dohar.

"We outgrew [the Cleveland] facility and we needed to increase efficiency," Dohar said. "We have put in enough automation here to accommodate quality, consistency and capacity."
The plant's streamlined operations will help facilitate the development of energy-efficient and sustainable roofing products, Dohar and Vross said.
Simon Roofing already has several "green" products, including a garden roof and flooring made of recycled materials, Vross said.
"What's driving the industry now is the environment," Dohar said. "That's where I think we will have a leadership role in our industry."
The company — which recorded $70 million in sales last year — continues to grow, Vross said. He and his partners built the new facility to ensure the business' growth contributed to the local community.
"We wanted to make an investment in our neighborhood and create jobs in the community," Vross said. To further contribute to the community, the company built a sports complex on the site. The complex includes a baseball diamond, batting cages, a regulation-size soccer field and an indoor practice dome, which local schools and organizations use free of charge.
Vross, a baseball fanatic, coaches a youth team at the site, and Alex coaches soccer teams.
"If you build your community, that's where you are going to stay," Vross said.
The partners also wanted to bring the business closer to their families, Vross said.

"One of the goals was to keep our families here, keep our kids here," Vross said. "We would love for them to stay and flourish in the area."
Alex's daughter Jessica, a certified public accountant and lawyer, recently joined the company as a full-time employee.
Vross' daughter Chelsea and Jamie's son James, both college students, work at the company during their summer vacations and plan on joining the business after they graduate.

"This is what I have always wanted to do," Jessica said. "I grew up in Youngstown, so to be able to continue to grow the business and keep jobs in the community is an honor."