Obama's V&M tour to justify stimulus
Obama at GM Lordstown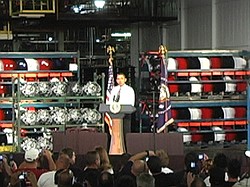 Video
President Barack Obama's complete speech at GM Lordstown, Tuesday, Sept. 15, 2009
President Barack Obama at Lordstown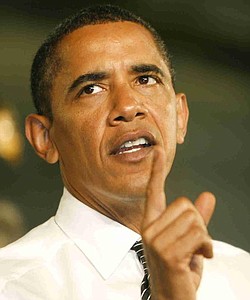 Gallery
President Barack Obama gears up Lordstown for the Cruze.
By DAVID SKOLNICK
YOUNGSTOWN
Those wanting to get a close look at President Barack Obama during his visit today to the Mahoning Valley are likely out of luck.
Even those who would be expected to attend the event at V&M Star — members of Youngstown and Girard city councils, Girard Mayor James Melfi and Trumbull County commissioners — were scrambling Monday to get on the guest list.
The event is closed to the public and is by invitation only.
The White House schedule doesn't include any stops besides V&M for the president.
And a presidential visit means tight security.
The Ohio State Highway Patrol and the Secret Service will escort Obama's motorcade from the Youngstown Air Reserve Station in Vienna, where Air Force One is expected to land at 12:50 p.m., to V&M Star on Martin Luther King Jr. Boulevard in Youngstown.
That means blocking other vehicles from getting near the motorcade.
Along the way, police officers from the Vienna, Girard and Liberty police departments will help with security, Melfi said.
Once the president gets into Youngstown, 45 city police officers along with three Mahoning County deputy sheriffs and two Youngstown State University officers will help with security, said city police Capt. Rod Foley.
Obama is scheduled to speak about jobs and the economy at 1:35 p.m.
He will tour the plant before the speech and talk to V&M workers. He is supposed to leave the air base about 3:20 p.m.
Youngstown Mayor Jay Williams, who will greet Obama on the tarmac at the air base, said he called White House staff to get elected officials inside V&M for the president's speech.
Obama selected V&M because the project received about $19 million in federal stimulus package money.
The V&M expansion is a great example of how the federal stimulus package helped "jump-start" local economies, said Jared Bernstein, chief economist to Vice President Joe Biden, on a Monday conference call previewing Obama's visit.
That money was "not the sole reason but a significant contributing reason" that V&M decided to build a $650 million expansion project near its current location on Martin Luther King Jr. Boulevard, said Vince Bevacqua, who serves as the company's spokesman.
The expansion will create 400 construction jobs. When the plant opens, there will be 230 employees working directly for V&M and 120 contract workers at the new facility. V&M makes seamless tubes for the oil and gas industry.
Williams said the V&M expansion is not just an example of the success of the federal stimulus package but also public/private partnerships and cooperation among government entities including Youngstown, Girard, Mahoning and Trumbull counties.
U.S. Rep. Tim Ryan of Niles, D-17th, insisted that without the stimulus money, "this project would never gotten off the ground."
However, when Vallourec, V&M's French-based parent company, announced the expansion Feb. 15, little was said about the stimulus package money.
Oliver Mallet, Vallourec's chief financial officer, said the project was helped by "very strong local business partnerships with the support of federal, state and municipal governments."
He said the main reasons to expand in Youngstown were the success of the current facility, the local work force, and its proximity to the Marcellus Shale, a large natural-gas field under eastern Ohio and most of Pennsylvania.
During that same announcement, Didier Hornet, Vallourec's chief operating officer of its oil and gas division, said the company was "benefiting from some stimulus package. Nonetheless, none of these incentives are specific to us. They are applicable to the industry in the region."
Gov. Ted Strickland, a Democrat, said Monday that he had several conversations with V&M Star officials who were "absolutely insistent" that stimulus money be committed to this project before it was presented to its board of directors.
The expansion may have taken place without the stimulus money, but that wasn't a chance the state was willing to take, Strickland said.
Ryan added that the V&M expansion has "re-energized our community."
Williams said Youngs-town has proved it can succeed with a little help from government.
The mayor said he's hopeful that Obama will announce assistance today for other challenges — such as neighborhood stabilization and a struggling school district — facing Youngstown.
Strickland said Obama has "already delivered" for the Valley by successfully pushing Congress to lend money to American automakers such as General Motors.
That assistance led to a third shift of about 1,200 workers at the GM plant in Lordstown, Strickland said.