Youngstown schools choose not to race for $2.4M
By HAROLD GWIN
YOUNGSTOWN
Nine local public school districts and nine local charter schools have signed up so far to participate in Ohio's bid for federal Race to the Top funding.
MAHONING COUNTY
Canfield
Jackson-Milton
Sebring
Western Reserve
TRUMBULL COUNTY
Bloomfield-Mesopotamia
COLUMBIANA COUNTY
Columbiana
Crestview
Leetonia
Lisbon
CHARTER SCHOOLS
Academy of Arts & Humanities
Buckeye On-Line School for Success
Dixon Early Learning Center
LEARN Academy
Liberty Exemplary Academic Design
Mahoning Unlimited Classroom
Mahoning County High School
Western Reserve Kindergarten Learning Academy
Youngstown Academy of Excellence
Source: Ohio Department of Education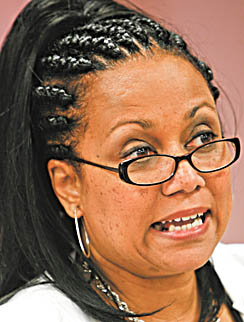 Photo
The Youngstown City School District won't participate in the state effort to secure second-round funding under the federal Race to the Top grant program.
"I would like to," said Superintendent Wendy Webb, but reluctance of the Youngstown Education Association teachers union to sign a memorandum of understanding as part of the application for up to $2.4 million in funding means Youngstown won't be involved.
The program is designed to provide aid to improve academic achievement in low-achieving schools.
Only two of 41 states applying for funding in round-one competition — Delaware and Tennessee — got money. Ohio did make the final 16 list and is pushing to get public schools signed up for its second round due at the U.S. Department of Education by June 1.
That means schools must sign their memorandums of understanding and get them to the Ohio Department of Education by 4 p.m. Friday.
So far, only a handful of public school districts and charter schools from the tri-county area have joined the effort, and Youngstown isn't among them.
Will Bagnola, YEA president, said the same factors that prevented union participation in round one still exist.
"Everything is still the same, from my understanding," he said, adding, "We're not going to sign it."
The YEA and other teacher unions are concerned that the memorandum of understanding would violate the terms of their negotiated labor contracts. Seniority rights could be lost and teacher unions object to having job evaluations tied to student performance because performance is sometimes affected by conditions that a teacher can't control, Bagnola has said.
Coming to school hungry affects a student's performance, and a teacher can't control that, he explained. Youngstown has a very high poverty rate.
Some districts have opted not to participate because they see little potential financial help for their schools from a program aimed at schools with poor academic records.
Ohio is seeking $400 million in Race to the Top funding. Youngstown would be eligible for about $2.4 million, if it participated and if Ohio is funded.
"Ohio is poised to submit an extremely competitive application," said Deborah Delisle, state schools superintendent. However, the state must increase the number of districts signing up to participate, she said.