Pavlik to take summer break
By Joe Scalzo
YOUNGSTOWN

Photo
Regardless of who he will fight, when or in what weight class, former middleweight boxing champion Kelly Pavlik says he will be spending his summer away from the ring.
Pavlik Loss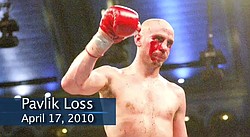 Video
Kelly Pavlik lost to Sergio Martinez in Atlantic City April 17, 2010. Trainer Jack Loew and Top rank's Bob Arum talk about the loss.
Pavlik-Martinez Fight Night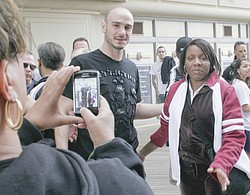 Gallery
After struggling mightily to meet the 160-pound limit over the past year, Kelly Pavlik knew he could no longer be the best middleweight in the world.
And that meant it was time for a change.
"Could I make 160 again? Yeah, I could," said Pavlik, who lost his titles by unanimous decision to Sergio Martinez on April 17. "Would I be healthy? No. Would I look better than I did [against Martinez]? No.
"Even if I had won the fight, it got to the point where I had to make some decisions."
Pavlik (36-2, 32 KOs) met with his team on Monday and opted against a rematch with Martinez, instead choosing to move up to either super middleweight or light heavyweight.
Although he maintains he still could have beaten Martinez had he not suffered a bad cut over his right eye, Pavlik also believes the struggle to make weight left him lethargic in the later rounds, which Martinez dominated.
"This last fight was the defining fight at middleweight," he said. "It boils to, it was just getting too hard."
After weighing more than 190 pounds before training camp, Pavlik said he brought in a nutritionist to help him lose weight — "The lady did an unbelievable job," he said — but said once he got down to 165, the weight wouldn't come off.
"Once we got there, it's out of anybody's hands," he said. "When you're running 101/2-11 miles the day before the fight and riding a stationary bike for 8 miles, all while there's nothing in your body, no food, no water, things like that take a toll."
Pavlik said he wanted the rematch and would have taken it at 164 or 166 pounds but that option wasn't available. Pavlik's rematch against Jermain Taylor in February of 2008 took place at the 166-pound "catch weight."
"I know it's only four pounds, but believe me, that makes a huge difference," he said. "It's the difference between having a salad or meat the night before the weigh-in. It's the difference between sitting in a sauna for five or six hours.
"If I took the rematch at 164 or 165, you'd definitely see a different guy."
Pavlik said he actually weighed 1821/2 pounds the night of the fight but removed most of his clothes so he could cut weight. Reports had him at 178 pounds on fight night.
"That's not an excuse," he said. "It is what it is."
While Pavlik would prefer to fight at super middleweight, many of the division's best fighters are tied up in Showtime's "Super Six" tournament. There are several options at light heavyweight, including undefeated IBO champion Chad Dawson and Bernard Hopkins, who handed Pavlik his first defeat in October of 2008.
When asked if he would be willing to fight Hopkins again, he said, "Definitely. Hell yeah. It'd be a good way to make a statement."
Hopkins is more of an idea than an option at this point. Pavlik said he didn't think Hopkins looked as good in his last two fights, wins over Enrique Ornelas and Roy Jones Jr., which both took place at 175 pounds.
Hopkins, who beat Pavlik at 170 pounds, may move up to heavyweight.
"If you look at Hopkins, he looked incredible against me but in his last two fights, he didn't look good," Pavlik said. "I don't think Hopkins would take the fight again."
Regardless of who he fights — or at what weight — Pavlik said he wants a break from the ring.
"Right now, personally, I don't care what my promoter or anyone else thinks," he said. "I'm looking at November. Somewhere around there.
"I'm taking the summer off."