Cruzing for charity at GM Lordstown
UAW GM Motorcycle Show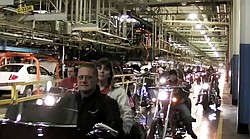 Video
The roar of more than 50 motorcycles thundering through the GM Lordstown Complex kicked off the 14th annual UAW GM Lordstown Bike Show May 12, 2010.
By GRACE WYLER
gwyler@vindy.com
LORDSTOWN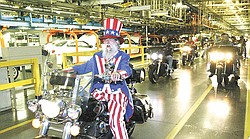 Photo
Gary "Bones" Mowen of Niles, dressed as Uncle Sam, leads a group of motorcycles through the GM Lordstown plant Wednesday. More than 50 bikers who work at the plant or are retired took part in the 14th annual UAW GM Lordstown Bike Show. The event raised money for the March of Dimes.

Photo
A group of GM Lordstown employees gathers around a Chevrolet Cruze after a benefit motorcycle ride through the plant. Production of the Cruze is expected to begin at the plant in July.
In a deafening display of patriotism and company pride, 37 Harley-Davidson motorcycles rode through the General Motors assembly plant here for the United Auto Workers Local 1112 annual bike show.
Gary "Bones" Mowen, dressed as Uncle Sam, led the pack of hogs on a scenic tour of Lordstown on Wednesday morning. The herd then entered the plant behind a Chevrolet Cruze driven by Local 1112 president Jim Graham.

Mowen, one of the original founders of the bike show, has led the pack since the tradition began in 1996. Although Mowen retired from the plant in 2004, he still dons the Uncle Sam suit for the annual event.

"We are American," Mowen said. "And this is an all-American bike show."
The bike show — hosted every May in honor of National Motorcycle and Safety Awareness Month — is a charity event sponsored by UAW Local 1112 and GM. This year's show will benefit the March of Dimes.
The bike show has helped foster a sense of community between management and assembly plant workers, said Jeff Leeper, co-chairman of the 2010 bike show.
"It has kind of brought us together," Leeper said. "It's not just about the people riding in here, but it's about everybody on the line and in the plant — union and management."
This year's bike show is particularly meaningful because the plant — and General Motors — have rebounded after the uncertainty of 2009, Leeper said. Last year's bike show was canceled because of the plant's economic woes.
"A year ago, we didn't know what our future was," Leeper said. "But we are still here, we're still making good cars."
The plant will add a third shift in June and production of the Cruze is slated to begin sometime in July.
Graham said the workers' excitement about the Cruze launch is unprecedented.
"I've never seen the membership so excited about a new product," he said. "We are ready to get this thing done and get this out on the road."