Canfield man gets 3 years for dragging death
By JOHN W. GOODWIN JR.
YOUNGSTOWN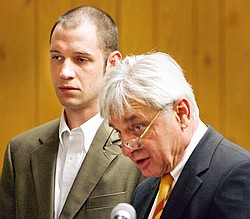 Photo
Bryce D. Burke, 27, left, was sentenced to three years in prison for the death of Andrew Culp, 22, of Columbiana. Burke's car rolled over Culp at a South Side fast-food restaurant in 2007, and Burke dragged Culp underneath the car about two blocks. This picture of Burke and his lawyer J. Gerald Ingram was taken in 2008 at Burke's arraignment in Youngstown Municipal Court.
A Canfield man who dragged a man beneath his car, which resulted in the victim's death, was led from the Mahoning County courthouse in handcuffs and will spend at least the next three years in prison.
Bryce Burke, 27, of Mercedes Place, appeared Wednesday before Judge James C. Evans of Mahoning County Common Pleas Court for sentencing on one count of failure to stop after an accident resulting in death.
Burke, in a plea agreement with prosecutors, entered a guilty plea to the charge in March.
Burke was not alone in the courtroom. He was joined by dozens of family members and friends of the victim in the case — 22-year-old Andrew Culp of Columbiana. The victim's supporters crowded the court, leaving some standing in the hall outside the courtroom. Several addressed the court on behalf of the victim.
Rose Culp, the victim's mother, told the judge she still can't understand how Burke could drag her son under his car then leave him on the side of the road to die. Through tears, she said even the maximum sentence of five years in prison would not be long enough.
"The defendant has shown no care from Day One and only cared about his own well-being," she said. "Five years seems like a light sentence after the pain he caused Andrew and his family and friends."
Mary Sharpe, Andrew Culp's aunt, asked the court to show the value in human life by imposing a stiff sentence on Burke.
Todd Herron, a friend to the Culp family, said Culp's loved ones have waited for justice since the day of the incident. He told the court Burke should be considered a danger to society because he lacked empathy for human life.
Atty. J. Gerald Ingram, representing Burke, described his client as a 27-year-old kid in a situation with very unusual circumstances. He told the court that Culp is partially at fault in the accident because it is believed he was lying in the road when he was struck by Burke's car. That comment drew a reaction from family members in the courtroom, forcing deputies to ask for quiet.
Ingram said Burke has had to have counseling after the incident and still has nightmares about what took place. Ingram asked the court to impose probation with some time in the county jail.
Burke apologized for the situation.
"I regret everything that happened that night. I have to live with it every day, and I can't take it back," he said.
Ultimately, Judge Evans went with a recommendation from Mark Hockensmith, an assistant county prosecutor, of three years in prison and a three-year driver's-license suspension. Burke also will have to pay a $1,000 fine.
According to police, Burke hit Culp just west of Zedaker Street and Midlothian Boulevard on the city's South Side on Nov. 29, 2007.
Culp is believed to have been dragged a substantial distance after the impact.
Burke was in the McDonald's drive-through at South Avenue and Midlothian when another motorist told him there was a body under his car, police said.
A witness called 911 and told the police dispatcher there was a body under the car in front of him. By the time police arrived, the car had gone.
Culp was found on the road about two blocks from the McDonald's. Burke surrendered to detectives a few days later.