City schools chief calls it quits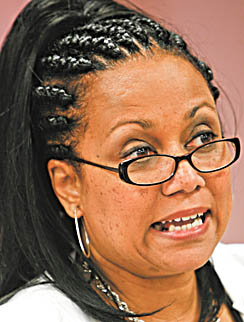 Photo
By HAROLD GWIN
WENDY WEBB
Background
A glance at the career of Youngstown Schools Superintendent Dr. Wendy Webb, who is retiring.
Education: Graduate of the former Youngstown South High School; bachelor's degree in communications and educational media and master's degree in library science, both from Kent State University; master's degree in administration from Youngstown State University; the first black person to earn a doctorate in educational administration from YSU.
Career: Served 35 years with the Youngstown Board of Education. She has been a high school librarian, speech teacher, supervisor of library and media services, and director of curriculum and instruction.
1998: Appointed assistant superintendent of schools.
2004: Appointed superintendent, replacing retiring Superintendent Ben McGee. She was the city's first black female superintendent.
Personal: Great-great granddaughter of prominent black local architect Plimpton Ross Berry. A middle school on the city's East Side is named in his honor.
Source: Vindicator files
YOUNGSTOWN
Wendy E. Webb dropped a bombshell at Tuesday's city school board meeting.
The superintendent of the city schools since 2004 said she intends to retire as of Jan. 1, 2011, after 35 years of service in the district.
The announcement clearly caught board members by surprise, and Webb confirmed she hadn't told the board about her plans before publicly reading her letter of retirement during the board meeting.
Anthony Catale, board president, said the first he learned of the superintendent's plan waswhen she read her letter. There has been no board discussion regarding any leadership change for the district, he noted.
"It was a complete surprise," said Lock P. Beachum Sr., a longtime board member. "She has served the district well."
She will be leaving with about seven months left on her $122,500-a-year contract.
Webb said she is giving the board early notice so it will have adequate time to conduct a thorough search for the next superintendent, and she promised to assist in making the transition a smooth one.
"I think it's a good time," she said, noting the district has a new five-year academic transition plan in place and is recovering from financial emergency.
During her tenure as superintendent, the district has gone through fiscally challenging times as well as positive transformation, she said.
She has overseen a $187 million school rebuilding program, but that construction brought the movement and relocation of thousands of students and hundreds of staff members, she said.
The loss of students to community schools, open enrollment and vouchers resulted in reduction in teachers and staff. All of those things were academically disrupting, but the district will come out of fiscal emergency and will be financially stable for the next several years, she said.
"Stability on all fronts is what the district needs to move forward," Webb said.
The lifelong city resident said she has dedicated her professional life to Youngstown's schoolchildren.
"My fondest memories are those when I was working in the schools on a daily basis, meeting, teaching and providing services to the children of the city. It is that interaction with students that has brought the greatest joy to my career," she said.
She thanked the district's leaders, staff, parents, churches and community members who she said have worked hard to make good things happen in the city schools, who believe that each and every child is entitled to advocacy, and who have recognized her dedication and encouraged her efforts.
Webb said her first love has always been children's literature and that she may go back to teaching that subject at the collegiate level.
Catale thanked her for her service and the passion she brought to her job every day, adding that he hopes the district will be able to call on her expertise in the future. He joined the other board members and the audience in giving Webb a standing ovation.
Catale said he would like the district to conduct a national search for its next superintendent, looking for someone with urban administrative experience and the ability to move the district in the right direction while being as passionate as Webb about the students.