Pavlik declines Martinez rematch
By Joe Scalzo
YOUNGSTOWN
Pavlik-Martinez Fight Night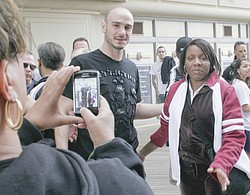 Gallery
Pavlik Loss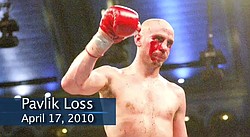 Video
Kelly Pavlik lost to Sergio Martinez in Atlantic City April 17, 2010. Trainer Jack Loew and Top rank's Bob Arum talk about the loss.
After a decade of fighting at 160 pounds, Kelly Pavlik is saying goodbye to the middleweight division.
But he's not necessarily saying hello to super middleweight.
Pavlik officially declined a rematch with Sergio Martinez on Monday, less than a month after his losing his WBC and WBO middleweight titles in a 12-round unanimous decision in Atlantic City.
Although Pavlik weighed just 178 pounds when he met with his handlers Monday — about 15 less than he weighed before the Martinez training camp — everyone agreed it was time for a change.
"It'd be idiotic to try to stay at 160 and be healthy making it," said Pavlik's trainer, Jack Loew. "I was shocked [by his Monday weight] and he was shocked, but he just looks big and thick again.
"He's not fat and it's all good weight. But he's a solid 178 and he doesn't want to battle that problem again."
That decision wasn't a big surprise. What was surprising was the possibility that Pavlik could fight at the 175-pound light heavyweight limit, rather than make one step up to the 168-pound super middleweight division.
"I have no idea where we're going, I really don't," Loew said. "It could be super middleweight or it could be light heavyweight. A lot of the super middleweight fighters are tied up right now, so what's attractive at that weight?"
Although Pavlik (36-2, 32 KOs) seemingly has more options at super middleweight, most of the division's biggest names, including WBC champion Carl Froch, Arthur Abraham, WBA champion Andre Ward and Mikkel Kessler, are competing in Showtime's "Super Six" tournament and would not be immediately available.
IBF champion Lucian Bute, who defeated Edison Miranda as a co-feature on Pavlik's April 17 HBO telecast, is not competing in the tournament but is scheduled to fight an unnamed opponent on July 24 in his native Romania.
One possibility at light heavyweight is IBO champion Chad Dawson (29-0, 17 KOs), who is ranked No. 2 in the division behind Bernard Hopkins. Hopkins handed Pavlik his first loss in October of 2009 in a bout fought at 170 pounds.
When asked when they would make a decision, Loew said it was up to co-manager Cameron Dunkin.
"That's what Cameron's job is," he said. "Once he figures out the best scenario, we'll make our mind up."
At 6-foot-21/2, Pavlik has always been big for a middleweight. The weight has become a bigger problem in recent years for Pavlik, who turned 28 on April 4. He had to work out as often as five times a day in the weeks leading up to the Martinez bout in order to drop the weight.
That process may have sapped his energy last month, when he was badly beaten in the final four rounds after leading the fight entering the ninth round.
Afterward, Pavlik admitted he was running up to the morning of the weigh-in and said he struggled losing the final few pounds.
Pavlik did not respond to messages seeking comment on Monday.
"We all put in our opinion but it's Kelly's decision," said Loew. "He's the one who had to train five times a day to make weight and pay for it on fight night. We don't.
"He wants to get back to training like a regular fighter and throwing 100 punches a round."
Ironically, Pavlik's decision will prompt Martinez to choose between weight classes. In addition to the middleweight titles, Martinez also holds the WBC junior middleweight belt in what many feel is his best division.
If negotiations fall through on a possible Manny Pacquiao-Floyd Mayweather bout, Martinez has been mentioned as a possible Plan B for Mayweather.