Pavlik to make decision today
By Joe Scalzo
YOUGNSTOWN
Pavlik-Martinez Fight Night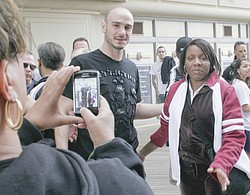 Gallery
Pavlik Loss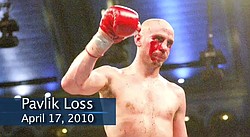 Video
Kelly Pavlik lost to Sergio Martinez in Atlantic City April 17, 2010. Trainer Jack Loew and Top rank's Bob Arum talk about the loss.
Kelly Pavlik's trainer Jack Loew said his fighter has not yet made a decision about his future, contrary to a report by HBO's Larry Merchant.
Merchant reported Saturday night that Pavlik would bypass a rematch with Sergio Martinez and move up to super middleweight.
"I don't know where Larry Merchant got that, I really don't," Loew said by phone Sunday afternoon.
Pavlik will talk with Loew, his father, co-manager Mike Pavlik Sr. and co-manager Cameron Dunkin at 2 p.m. today to discuss their next step.
Pavlik and Dunkin did not return messages seeking comment.
Pavlik (36-2, 32 KOs) lost his middleweight titles by unanimous decision to Martinez on April 17. He has until May 17 to activate the rematch clause.
The rematch must take place at 160 pounds; Pavlik's rematch against Jermain Taylor in February of 2008 took place at a 164-pound catch weight.
If Pavlik declines the rematch, it will be because of weight. The 6-foot-21/2 Pavlik reportedly weighed 192 pounds in the weeks after the loss to Martinez, which is close to what he weighed before training camp. He struggled to make weight before the bout and weighed as much as 178 the night of the fight. The struggles to make weight may have contributed to Pavlik's sluggish performance over the final four rounds.
In the days after the loss, Pavlik said he wanted the rematch but would wait to see whether his weight jumped back up before making any decisions.
"I think I know where we're headed," Loew said. "But we're going to check his weight [today] and discuss it and go from there."
If the 192-pound figure is true, it seems likely Pavlik will decline the rematch and make a permanent shift to the 168-pound super middleweight division, where he has plenty of options.
Most of the division's biggest names, including WBC champion Carl Froch, Arthur Abraham, WBA champion Andre Ward and Mikkel Kessler, are competing in Showtime's "Super Six" tournament and would not be immediately available.
IBF champion Lucian Bute, who defeated Edison Miranda as a co-feature on the April 17 HBO telecast, is another attractive possibility.