As economy sours, spirits sales rise
Liquor Sales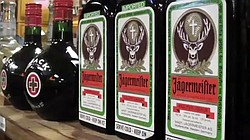 Video
Liquor sales in Ohio and The Valley are up.
By Melinda Gray
TheNewsOutlet.org
The population is dwindling and the economy is dipping, but neither are decreasing the Valley's liquor sales — only the shelf from which we choose.
Mahoning County liquor purchases rose 1 percent last year when compared to 2008. It continues a trend over the last five years for Mahoning, Trumbull and Columbiana counties: As our population or our economy have dwindled, our liquor sales have not.
"Our sales are up; they're terrific," said Rich Saul, co-owner of Gino's Drive Thru and Liquor on East Midlothian Boulevard in Youngstown. During a down economy, "people have more time to smoke and more time to drink," he said.
Nick Catsoules, co-owner of Gino's, said that as Youngstown's steel industry waned, the blue-collar mentality of the people did not. "Local shift (workers) in the mill go and have a shot and a beer after work. It's a way of life in the rust belt area we've grown up in."
While Mahoning County saw a 1 percent growth in 2009, according to the Ohio Department of Commerce, Division of Liquor Control, retail liquor sales in Trumbull and Columbiana counties are up 2 percent from 2008.

The long-term numbers tell the same story.

The Valley, overall, has seen an 8-percent increase in liquor sales over the last five years with Columbiana County the highest at 23 percent. Trumbull County is next with a 7 percent, followed by Mahoning County with a 6 percent increase.
For all of Ohio, liquor sales were $734.8 million in 2009, up from $697.7 million in 2008.

Though sales are up, some store owners admit that people are buying cheaper alcohol.

"They are still coming in, they are just buying down," said Jane Carelly, wife of The Beverage House owner Sam Carelly.
Saul agrees that people are downsizing on cost, for example, going from Grey Goose to Smirnoff. Customers are buying for value to make their dollar go farther, "like a Wal-Mart," he said.
But not every customer compromises.

"Generation X goes for the gusto. They want the high end, whether they can afford it or not. They want the Grey Goose. They want the Hennessy. They want the Dom Perignon," said Catsoules.
One possible boost for liquor store sales is the 2006 indoor smoking ban for restaurants and bars.
"You can smoke at home. That really hurt the bars bad," said Catsoules.
Gino's, one of six liquor stores in Youngstown, is not the only store to see an increase in 2009, but they did see more of a hike than any of the other stores. "In 2009, our liquor sales were up 31⁄2 percent," said Saul.

He attributes this boost in sales, in part, to the location of his store and his attempts at easing the financial burden on his patrons. He offers frequent sales to get people in the door, he said.
Saul expressed surprise that sales stay high despite the loss of population and high unemployment rate. But Youngstown State University psychology professor Steve Ellyson said it's not all that surprising. Using alcohol is like self-medicating, he said.

"When reality gets to be a bit much or things get stressful, people use (alcohol) to dull down the pain."
A 2009 Gallup poll shows confirms that point. In recent years as the economy has fluctuated, alcohol sales and consumption have hit around 65 percent of Americans drinking. In good economic times, the number of Americans drinking some form of alcoholic beverage never drops below 55 percent.
"People use it as an anti-depressant to temporarily escape," Ellyson said.

The NewsOutlet is a joint media venture by student and professional journalists and is a collaboration of Youngstown State University, WYSU radio and The Vindicator.