Traficant has 'odd' re-entry to politics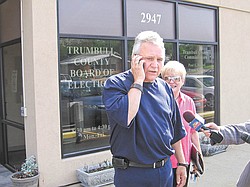 Photo
Former U.S. Rep. James A. Traficant Jr. with longtime friend and former congressional aide Linda Kovachik.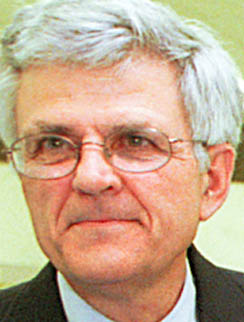 Photo
Valley's former rep opts to run in 17th District
By DAVID SKOLNICK & Ed Runyan
James A. Traficant Jr.'s return to politics as an independent candidate for the 17th Congressional District got off to a somewhat chaotic start.
"It was certainly odd," said William Binning, chairman of the Youngstown State University political science department.
Traficant, a former 17-year congressman expelled in 2002, had considered running for either the 17th or the 6th District seat.
He chose both districts early Monday only to later decide to seek only the 17th District seat after misunderstanding state law.
There is nothing in state law to prohibit Traficant from running for both seats in the same election, said Kevin Kidder, a spokesman for the Ohio secretary of state's office.
Had Traficant won both seats, he would have been certified. Whether he would be seated in both is a federal issue, Kidder said.
But Traficant opted not to run for the 6th.
The reason? Traficant and his advisers believed he couldn't legally do so, said Linda Kovachik, a close friend and former Traficant congressional aide.
When asked where the incorrect information came from, Kovachik said from the board of elections.
Jodi Fiorenzo Dibble, deputy director of the Trumbull County Board of Elections, who accepted Traficant's nominating petitions, said neither Traficant nor anyone in his campaign asked about running for both seats.
Had they asked, Dibble said, she would have told them it is allowable under state law.
Also, Kidder said no one asked the secretary of state's office about the issue besides Dibble and the local media.
Traficant of Poland was released from federal prison in September 2009 after a seven-year term for bribery, racketeering, filing false income taxes and obstruction of justice.
Since his release, he has talked of running for Congress.
"I think he did it to generate a lot of publicity," Binning said.
Traficant and his supporters provided "tips" to the media about his filing intentions, and some tips ultimately did not pan out.
After filing in the 17th District, Traficant said he was going to have a press conference at a Columbiana restaurant and then go to the Columbiana County Board of Elections in Lisbon.
When asked at the Trumbull elections board if he was filing for the 6th District, Traficant said, "You never know with me. I might file in West Virginia."
Federal law requires Traficant to be a West Virginia resident in order to file in that state.
If elected, Traficant said he would attempt to repeal the 16th Amendment, which he said would abolish the Internal Revenue Service. Traficant has a long-standing grudge against the IRS.
"I want the Internal Revenue Service to look at me very carefully," he said, looking into a TV camera.
"I plan to throw you the hell out and give Americans some freedom."
Traficant turned in 3,138 signatures on nominating petitions for the 17th District, which includes portions of Mahoning, Trumbull, Portage and Summit counties. The minimum number of signatures required is 2,199.
The Trumbull board has until July 15 to certify the petitions of independent candidates running in the November election.
The 17th District seat is held by U.S. Rep. Tim Ryan of Niles, a former Traficant congressional aide. Ryan is running in today's Democratic primary.
When asked for a comment Monday on Traficant's filing, Ryan issued a statement that doesn't mention his former boss.
There's a veiled reference to Traficant's corrupt past. Ryan's statement said he's "worked diligently with local leaders to restore confidence in our community."
In a brief interview with The Vindicator, Ryan said: "I just think the election is going to be about jobs. It's going to be the candidate that can best bring jobs into the community. ... Our message is about what's good for our kids and our grandkids, and if [voters] think it's someone other than me, then they can vote for him. But this is about the future. It's going to be about who can bring jobs."
Tom Humphries, the Youngstown/Warren Regional Chamber's president and chief executive officer, was more to the point.
Traficant's criminal "actions brought shame and ridicule to his office and to his community and expanded the negative reputation that our Valley had faced for many years. Mr. Traficant had his chance to be a trusted and worthwhile public official and blew it. I, for one, do not want this Valley to go backwards — backwards to the cave this Valley was in when he was the congressman."
Mahoning County Democratic Party Chairman David Betras said he is "confident" the "vast majority" of voters in the 17th District will not support Traficant.
"We need to move forward under Tim Ryan and not backwards as a community, which is where James Traficant would take us."
Dave Johnson, chairman of the Columbiana County Republican Party, said Traficant was wise to run in the 17th District instead of the 6th District because of his popularity in the 17th District.
Johnson said he would pick Traficant over Tim Ryan in a race for congress.
"I think this will be a referendum on Tim Ryan's radically left agenda. He has voted lockstep with Nancy Pelosi on everything. ... putting up a debt that will sink this country. I think Jim Traficant will be a counter balance to all that," he said.
Can Traficant win?
"It's like the Kentucky Derby," Binning said. "Everyone in it has a chance. He's 30-to-1, but he's in the race. If the frontrunner makes a lot of mistakes, he'll be in the race. He's not favored, and he doesn't have much of a shot, but he's in the race. It's great theater."
Traficant, known for his outrageous statements, didn't fail to deliver Monday.
While in Warren filing his petitions, Traficant said when he left "art school," meaning federal prison in Rochester, Minn., he went somewhere and changed into women's clothes. Then he got on a bus to go back home.
"I was dressed in drag, and I walked right on that bus, right in front of all the press and came straight home. I wanted them to know there's always a side in politics that is most unusual. And not always what you see is what you get," Traficant said.
Contributor: Grace Wyler, Vindicator staff writer
More like this from vindy.com