Lawyers want case heard in juvenile court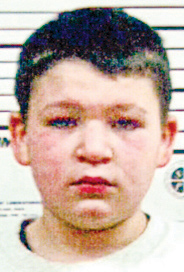 Photo
By JEANNE STARMACK
NEW CASTLE, PA.
Defense lawyers want a higher court to review a judge's decision to try a 12-year-old murder defendant as an adult.
Jordan Brown was 11 when he was charged with murdering his father's pregnant girlfriend with a shotgun blast to the back of her head as she lay in bed at the family's farmhouse about 7:30 a.m. Feb. 20, 2009.
He was charged as an adult because Pennsylvania law requires anyone over 10 who's charged with murder to go through the adult system, at least at first.
Jordan's lawyers had petitioned the Lawrence County Common Pleas Court to decertify the boy as an adult so he could be prosecuted in the juvenile system. If convicted as an adult, he could spend the rest of his life behind bars.
Common Pleas President Judge Dominick Motto ruled in March that Jordan would be tried as an adult. He ruled the defense failed to prove that Jordan would be amenable to rehabilitation, a key factor in whether he can be transferred to the juvenile system.
Jordan's lawyers want the judge to amend his decision so they can appeal it to the Pennsylvania Superior Court.
Lawyers David Acker and Dennis Elisco argued at a hearing Monday before Judge Motto that his decision says the boy must admit his guilt to prove amenability, and they said that would violate the Fifth Amendment of the Constitution.
They argue that's a significant issue that should be reviewed by the higher court.
But the Superior Court does not routinely hear appeals on decisions that are not final, explained Acker. He said that Judge Motto could change his mind at any time about trying Jordan as an adult, including through the trial.
Acker said that if the judge amends his decision with an acknowledgement that there is a significant issue that should be reviewed by the appeals court, the court will grant the review. He said that if the judge refuses the amendment, the defense can still ask for that review. But it could be turned down.
Senior Deputy Attorney General Anthony Krastek, who is prosecuting the case, argued that there are other ways the defense could have shown amenability other than having Jordan admit guilt, and the judge's decision never required him to do that.
He called the defense's assertion that the judge required an admission of guilt a misstatement of his opinion.
Krastek said that an expert witness the defense presented failed to prove amenability.
"It's their burden," Krastek said. "They can say, 'If he did this, here's the treatment plan,' and it would work to give the court some basis," Krastek said.
In his decision and again at Monday's hearing, Judge Motto said the defense's expert witness failed to show amenability.
He said the witness, a doctor who tested Jordan, couldn't offer specific answers on how Jordan could be rehabilitated if he were found guilty.
Judge Motto said he is taking the request for the amendment under advisement. He has 30 days to issue a decision.
The attorney general is prosecuting the case because District Attorney Joshua Lamancusa once represented Jordan's father on a legal matter and wanted to avoid the appearance of having a conflict of interest.