IN FOCUS: Native American inspired art
In Focus: Mohwak Valley Fine Arts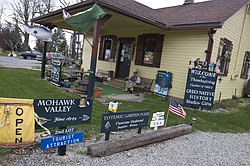 Gallery
PHOTOS AND STORY BY LISA-ANN ISHIHARA
BERLIN CENTER
The northwest corner of U.S. Route 224 and state Route 534 here has been the site of Mohawk Valley Fine Arts gallery for 14 years.
Inside the dwelling is artist Joseph Donnelly's personal studio.
MVFA has original pieces in a variety of mediums ranging from jewelry, oil paintings, greeting cards, poems and block prints.
Donnelly focuses on the American Indian culture and history of Ohio. He preserves history with his interpretations and beautiful craftsmanship.
Donnelly said he is fascinated with American Indians, especially during the contact period with Europeans.
He said his work reflects his passion "for the legacy our founders left behind and [was] taken away."
A quote from Sir William Johnson sums up his feelings on the subject:
"I have daily to combat with thousands, who, by their avarice, cruelty or indiscretion, are constantly counteracting all judicious measures with the Indians; but I shall still persevere."
Johnson, who was British, commanded Iroquois Indian and colonial militia forces during the French and Indian War in the 1750s. He worked to keep American Indians attached to the British interest.
The quote hangs alongside a portrait Donnelly painted.