James Traficant will file today to run for Congress, aide confirms
Staff report
Traficant Press Conference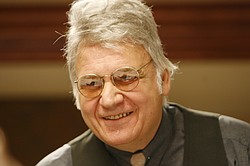 Video
Jim Traficant talks about casinos, a run for congress, and Pavlik.
BOARDMAN
Former U.S. Rep. James Traficant Jr. will file paperwork by 4 p.m. today as an independent candidate for Congress, Linda Kovachik, an aide to Traficant confirmed late Sunday night.
But exactly what time Traficant will file and in what district remained under wraps.
Though Traficant told CNN in late February that he would run for Congress, Dennis Malloy, Traficant's communications director, said Friday that no final decision had been made.
Traficant, released from federal prison in September 2009, must decide if he'll run in the 17th Congressional District — currently represented by Tim Ryan, a Democrat from Niles — or the 6th District — currently represented by Charlie Wilson, a Democrat from St. Clairsville.
The 17th District includes portions of Mahoning, Trumbull, Portage and Summit counties.
The 12-county 6th District includes all of Columbiana County and a portion of Mahoning, and snakes down the east side of the state for about 350 miles.
An independent congressional candidate in the 17th needs at least 2,199 valid signatures from registered voters to get on the ballot. The number is 2,230 in the 6th District.