Sir Elton makes memories for a packed downtown house
Elton John at Covelli Centre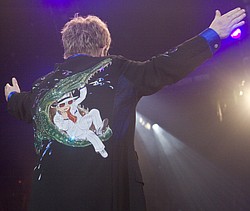 Gallery
By ED RUNYAN
runyan@vindy.com
YOUNGSTOWN
Sir Elton John, the man who made so many memories during his 40-year career with his chart-topping music and showmanship, made unforgettable memories Saturday night for 7,000 area fans packed into the Covelli Centre downtown.
With hits like "Rocket Man," "Bennie and the Jets," "Levon," and "Philadelphia Freedom," the English performer lit up the stage with his five-member band for his Greatest Hits Live show.
John is one of the top-selling solo artists of all time, behind only Elvis and the Beatles, according to Billboard.
He drew fans from as far away as Atlanta at costs ranging from $39 to nearly $200 for a ticket purchased on eBay or from a broker.
In the hours leading up to the 8 p.m. show, downtown was brimming with couples, sisters and friends, many of them accompanied by a daughter or son who learned to appreciate John's music second-hand.
The majority of concert-goers were in their 40s or 50s — old enough to remember his energetic early days.
Sixteen members of the Fackelman and Luther families of Girard prepared for the show at Buffalo Wild Wings on Wick Avenue several hours beforehand, explaining that John's music has been passed from generation to generation.
"I've wanted to see Elton John for a long time — since I was young," Michelle Luther said.
"My 16-year-old daughter Emily loves him. I think she was born in the wrong era," she said. "She learned the words to "Tiny Dancer" when she was 2 years old — word for word."
"I just love his songs," Emily agreed. "I've been listening to them since I was born."
Michelle Luther's brother-in-law, Steve Fackelman, said he and his wife, Carol, were persistent the morning the tickets went on sale and worked their computers, succeeding in getting six tickets each. All the tickets were sold in 30 minutes, but after seven minutes, only single tickets were left, Fackelman said.
Ed and Nancy Baran of Boardman didn't score any of the $39, $89 or $139 Ticketmaster tickets online, but got two tickets behind the stage from a broker for $111 apiece.
"We are so excited. It's probably my fourth or fifth time," Nancy said of John concerts, dating back to her high school days in the 1970s.
"He was just different — Liberace outfits — but his music was incredible. Everybody was listening to him," Ed Baran said.
Dortheann Metzinger of suburban Atlanta came back to her hometown of Canfield this weekend with her boyfriend, Alex Hutchins, to stay with her parents, Robert and Ann Metzinger, and attend the concert.
Her friend from St. Charles School in Boardman, Cris McFerren, called her on the phone when she learned that Elton John was coming to Youngstown.
"I called her up and said 'You won't believe it,'" McFerren said. "Dorothe introduced me to Elton when we were kids" around 1976, McFerren said.
"I've been a fan since about age 10," said Dortheann, a 1982 Youngstown Cardinal Mooney graduate. "It's one of my lifetime list of people to see."
One of her fondest memories of those days is a particular pair of Captain Fantastic socks she wore with her Catholic school uniform.
The socks showed John as Captain Fantastic from the 1975 album Captain Fantastic and the Dirt Brown Cowboy. They depicted John wearing big glasses and hat, and the socks showed a colorful keyboard.
"It was our only form of expression," Metzinger said of being allowed to wear any kind of socks they wanted.
This is the first time Metzinger has attended an Elton John concert, even though John has a home in Atlanta and has played concerts there.
"I know I'd never get to see him in Atlanta," she said, explaining that with 4 million people in the Atlanta area, tickets are hard to get.
John Klimko of Poland said the concert helps put Youngstown on the map.
"To have someone that well-known in our town. This is good for the town," he said. "I think we need more of this kind of thing. People will come from Akron and Cleveland. People will come."
Sandy Durbin of Willowick, a Cleveland suburb, said she has seen Bruce Springsteen, Fleetwood Mac and Pat Benatar in recent years.
"I think it's important to see the music icons while we still have them, and we're going to see them in a 7,000-seat arena. It'll be intimate. It'll be good," she said.
"I saw the tickets come up on Ticketmaster for Youngstown, and I was thinking THE Elton John?"
Sheryl Carabbia of Struthers, who was with about five coworkers and friends, said, "There's a few things you just want to go out and do, and this is one of them."
Paul Handza, 22, of Pittsburgh, came to the show with several relatives, including his mother, Lynn Handza of Ridgway, Pa., which is near the Allegheny National Forest.
"I'm surprised. It's really pretty here," Lynn Handza said as she sat at a table on the sidewalk in front of Rosetta Stone on Federal Street before the concert.
"I'm very interested in architecture, and there is some really nice architecture here," Paul Handza said.