Rep. Ryan postpones health-care meeting, citing safety concerns
By WILLIAM K. ALCORN
YOUNGSTOWN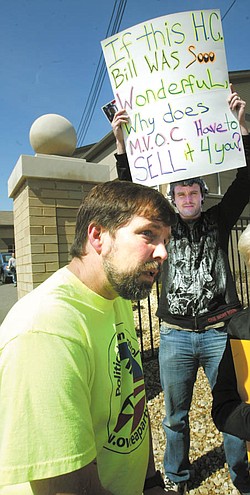 Photo
Duke Bennett of Wellsville, left, and Robert Henricksen of Struthers were among a group of Ohio Valley Tea Party supporters who demonstrated against President Barack Obama's health-care reform law. They gathered Tuesday at the entrance of the Youngstown Community.
Citing potential danger to himself and others and inadequate security, U.S. Rep. Tim Ryan postponed an informational meeting about health-care reform.
The meeting was scheduled for 2:15 p.m. Tuesday at Youngstown Community Health Center on Wick Avenue.
About 15 demonstrators, many supporting the Ohio Valley Tea Party, which its spokesman at the scene, Duke Bennett of Wellsville, said is against "Obamacare," were at the entrance to the health-care center, many carrying signs of protest.
"Obamacare" is a "socialist-driven agenda" that will bankrupt the nation, Bennett said, referring to President Barack Obama and his subsequent signing of the health-care reform law.
"What we are standing against is government mandating us to buy into an entitlement program," said Robert Henricksen of Struthers, who said he was the organizer of Tuesday's demonstration.
"We will reschedule the meeting," said Patrick Lowry, spokesman for Ryan of Niles, D-17th.
He said, however, given the environment surrounding health care, it was canceled for the safety of everyone concerned.
"This was to be an informational meeting. The point is, people come here [Youngstown Community Health Center] to get their health-care needs met. It is not a political forum," Lowry said.
"The congressman is not afraid to talk to people with divergent viewpoints. However, it was an issue of inadequate security at the venue," said Heather McMahon, a member of Ryan's staff.
"We welcomed the event, but we have had numerous threatening letters and telephone calls" regarding health-care reform, she added.
The health-care reform bill is positive for health clinics that serve the uninsured because it will provide $5 billion for operation and expansion of services and $1.5 billion for capital projects, said Dr. Ronald Dwinnells, chief executive officer of One Health Ohio.
One Health Ohio is the umbrella organization for Youngs-town Community Health Center, 726 Wick.
Forty-one percent of the clients of One Health Ohio, which also has health-care centers in Warren and Alliance, don't have health insurance, Dr. Dwinnells said.
People on the street in downtown Youngstown, picked at random, expressed serious doubts about the health-care reform bill or were opposed to it.
A 23-year-old single mother, who is working and has health insurance through her job, said she is concerned that it will hurt the middle class and older people, such as her grandparents.
"I don't like it," said Jason Mumaw, 27, of Poland, who works at Turning Technologies.
"With all the polls saying the public was against President Obama's plan, why did it pass? It should have gone back for a more bipartisan solution," he added.