Pavlik 101 || Brit here to study city and its champ
By NATALIE LARICCIA
news@vindy.com
YOUNGSTOWN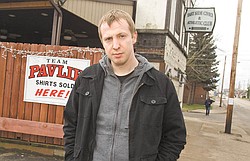 Photo
James Rhodes, 31, from England, is in Youngstown to write books about living on the city's South Side, the Youngstown boxing community and the city's support of middleweight boxing champion Kelly Pavlik. He is in front of a favorite Pavlik hangout, East Side Civics & Athletic Club, located on South Avenue.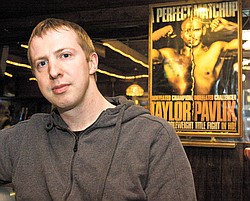 Photo
James Rhodes, 31, from England, is in Youngstown to write books about living on the city's South Side, the Youngstown boxing community and the city's support of middleweight boxing champion Kelly Pavlik.
Pavlik vs. Espino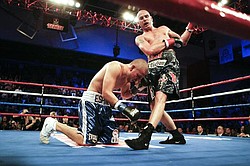 Gallery
It was a lifelong love of boxing and a fascination with champion Kelly Pavlik that initially introduced James Rhodes to Youngstown.
But through his curiosity, research and travels, the 31-year-old Manchester, England, native also discovered the similarities between Youngstown and one of his favorite sports.
It's a city that's been battered, beaten and knocked down more than a few times. But it has spirit, character and a rich history, and some of the most generous, humorous and welcoming people that he says he's ever met.
And that's one of the reasons why Rhodes has chosen to take a closer look at Youngstown, Pavlik and the city's South Side as part of his studies as Simon Research Fellow at the University of Manchester.
"The history of Youngstown is just fascinating to me. It was just a matter of decades ago, when we [Youngstown] were one of the biggest steel producers in America. It's indicative to what's happened to a lot of America — especially the Rust Belt," Rhodes said.
Rhodes will be in Youngstown until the end of August conducting research for two projects he hopes to publish in two books as part of his fellowship project.
One project is focusing on the sociology behind Pavlik, Youngstown and Youngstown's boxing community. The other will focus on the life stories of current and former South Side residents age 45 and older.
Rhodes said he first began learning about Youngstown in 2007 after watching a televised Pavlik bout in England.
When he discovered Pavlik was from Youngstown, Rhodes said he wanted to learn all he could about the Youngstown community and the economic hardships the city endured after many of the steel mills closed in the late 1970s and early 1980s.
He was intrigued by the parallels that Youngstown shared with Burnley, England, a town about 30 miles north of Manchester. Like Youngstown, Burnley also experienced significant population loss and economic hardships after several of its textile mills began shutting down in the 1950s.
Rhodes began researching Youngstown on the Internet, and he purchased the book "Steeltown USA" on Amazon.com. Reading the book — written by Sherry Lee Linkon and John Russo, co-directors at the Center for Working-Class Studies at Youngstown State University — further piqued his curiosity.
He e-mailed Linkon and Russo, asking if he could visit with them in Youngstown on a summer 2008 United States trip.
Although it's not uncommon for Linkon and Russo to receive requests from people interested in learning more about Youngstown, Russo said they were impressed with Rhodes' desire to research complex themes relating to working-class issues on a multifaceted level.
"We were just very impressed with the quality of his thinking. We saw so much potential," Linkon said.
Upon his initial monthlong Youngstown visit in the summer of 2008, Linkon and Russo helped put Rhodes in contact with people affiliated with Pavlik and other community activists.
"We watched how immediately he did not go to the library. He went to the trenches and to the bars to begin talking to these people. He wasn't going to study from afar," Russo said.
Rhodes explored the city, focusing on the city's South Side, where Pavlik grew up. He also visited places Pavlik would often frequent such as the South Side Boxing Gym and East Side Civics & Athletic Club, a members-only South Side tavern.
"He [Rhodes] immersed himself with people. I think what blew us away with James is that he built relationships. I've never seen anybody who's as good at doing that, and he is so good at it because he's genuine. ... He's an academic who is an ordinary bloke," Linkon said.
It was at places such as East Side Civics where Rhodes met people such as Kenny Keys, a 49-year-old lifelong resident of the city's South Side.
"It's nice to meet someone from overseas. I took interest because he was always comparing Youngstown to Manchester. That was interesting to me. Then I find out he's a great character. You see this guy from England come in here [Civics], and you say, 'I gotta mess with this guy,'" Keys said through a cackling laugh.
Rhodes says it was this humor and camaraderie that helped him establish an almost-immediate connection.
"I just really liked Youngstown right away. I felt like I wanted to live here [in Youngstown] right away. It's kind of weird how some places just grab at you like that," Rhodes said. "There's no pretense. The people say what they think. There's a real sense of warmth."
After spending a few weeks in the city, Rhodes decided to apply for the Simon Fellowship, making Youngstown a primary area of focus for his research. His proposal also included an opportunity for him to conduct on-site research in Burnley.
More than 200 worldwide scholars applied for the Simon Fellowship, and Rhodes learned in May 2009 that he was one of few accepted into the competitive three-year program.
Rhodes also returned to Youngstown for a month during the summer of 2009 to visit friends and conduct pilot interviews and research for his fellowship.
Since returning in early February, he has been busy reconnecting with residents and developing his research at the Center for Working-Class Studies.
Although a publishing date isn't known, Rhodes says he hopes to begin putting some of his research in print by 2012, when his fellowship will be coming to a close.
And after that, he isn't sure, but Rhodes says he'd welcome any opportunity to return to Youngstown, perhaps even full time.
"I'll always come back to Youngstown. I've made so many friends here. I'll always have an affinity to Youngstown, especially the South Side. I didn't think Youngstown would become such a passion, but it has," he said.
JAMES RHODES
Care to comment?
Any Mahoning Valley resident — specifically those 45 and older who live or have lived on the city's South Side — who wishes to contribute feedback for James Rhodes' research may contact him at james.rhodes@manchester.ac.uk or call him at (330) 941-7264.
Lecture: Rhodes will give a public lecture as the guest speaker at 7:30 p.m. Thursday in the Presidential Suite at Youngstown State University's Kilcawley Center. The lecture is part of the Center for Working-Class Studies' 2009-2010 lecture series, and the topic will be "Kelly Pavlik: A Sociological Study of Reporting on the Man and the City."