Chevy Cruzes on way to New York Auto Show
By DON SHILLING
shilling@vindy.com
Chevrolet is about to unveil the Cruze model that is to achieve 40 mpg on the highway.
The Cruze Eco will be shown at the New York Auto Show, which begins this week.
Cruze gets 3rd Shift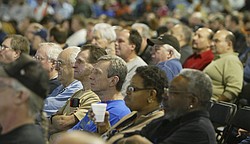 Gallery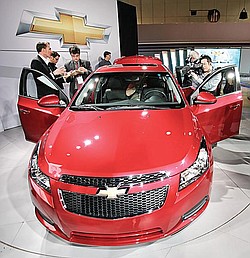 Photo
The press gets a close look at the 2011 Chevrolet Cruze after its unveiling at the Los Angeles International Auto Show in Los Angeles. It debuted there last month. This week, the Lordstown-built car is featured at the North American International Auto Show in Detroit.
The Cruze Eco will have these features to improve air flow around the car:
A shutter that will close off the lower front grille at higher speeds
A revised upper grille
Revisions to the front of the car
Extensive use of underbody panels
A rear spoiler
Lowered ride height
Source: Chevrolet
Chevrolet said the Cruze Eco will achieve an estimated 40 mpg with a manual transmission and a 1.4-liter, turbocharged engine.
The model will have improved fuel economy through enhanced aerodynamics as well as wheels and tires that are designed to be lightweight and have less rolling resistance, Chevrolet said.
"The Cruze Eco delivers hybridlike efficiency without the price tag," said Jim Campbell, U.S. vice president for Chevrolet marketing.
Prices for Cruze models have not been released.
Chevrolet said mileage ratings for city travel, as well as ratings for versions with an automatic transmission, will be released closer to the start of production.
The Cruze is to be launched from General Motors' Lordstown complex in August, but the high-mileage model won't be available until the last quarter of the year.
Chevrolet also has not released fuel-economy numbers for other Cruze models.
It did announce, however, that it is creating an optional RS appearance package for the LT and LTZ trim levels.
The package will include a new look to the front end, rocker moldings, rear spoiler and fog lamps. Also, the instrument cluster will have chrome accent rings, instead of the standard silver finish, and opaque rims for the dials that allow the backlighting to shine through.
The LT and LTZ trim lines will have the turbocharged engine. The turbocharger allows for a smaller engine, which saves on gas, though still providing a boost for acceleration.
The base model of the Cruze will be the LS, which will come with a 1.8-liter, four-cylinder engine that will not have a turbocharger.
More details about the Cruze could emerge at the New York Auto Show, where media previews will be Wednesday and Thursday. The show runs Friday through April 11.