Grandmother's life, death inspire song
By GUY D'ASTOLFO
dastolfo@vindy.com
CHAMPION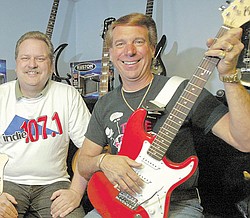 Photo
Frank Fordeley, right, owner of Fordeley's Music and Nunnies Motors in Champion and Gregg Allen pose at Fordeley's Music.
A song that local rocker Frank Fordeley wrote about his grandmother's life and death has struck a chord with one radio station's listeners.
"It's OK to Let Go (And Let God Come)" has won the weekly face-off for seven straight weeks on WEXC-107.1 FM, a Christian rock station out of Greenville, Pa..
Gregg Allen, a DJ and program director for the station, has the contest at 5 p.m. every Friday. He pits the last week's winner against a new song, in most cases from a national act, and listeners vote online for their choice at c1071.com.
"Frank's song gets almost all of the votes each week," said Allen. "The other song usually just gets one or two." Allen heard about the song from Fordeley's producer, John Sferra. He visited Fordeley at his music store/used car lot ("Nunnie's," which he named after his grandmother) in Champion, and Fordeley played it for him.
"I told him I wanted to air it on the radio," said Allen. "It speaks to people who have recently lost loved ones, and it has Christian overtones."
Fordeley wrote the song in 2004, right after his grandmother died at age 91. It has never been released, but will be included on Fordeley's next CD, "Conclusions of Illusions," which should be complete by the end of the year.
To help understand the impact of his Nunnie's death, Fordeley explained the role she played in his life.
Fordeley's mother battled cancer when he was a child. She underwent 13 major surgeries and was wracked by bouts of depression after each. She died in 1988.
Mary Fordeley, the paternal grandmother of Fordeley and his siblings, cared for the children while their mother was unable. Fordeley became very close to her.
In her final year, Mary became bed-ridden and was in a nursing home, and Fordeley would visit once or twice a day to feed her, because she wouldn't take food from anyone else. "I would try to make her laugh by doing something different every day," he said. "Maybe I'd put on her glasses and say (in an elderly voice), 'OK, sweetie, let's have something to eat'."
In her waning days, Mary's organs began to shut down and she went into a coma. Doctors gave her two days to live, but she hung on.
After eight days, Fordeley talked to his pastor, Father Charles Crumbley of St. James Roman Catholic Church in Warren.
"Father Crumbley told me, 'You have to tell her that it's OK to let go and let God come. She needs to hear it'," said Fordeley.
"I made up my mind that I had to do it. The next time I saw her, I put one arm behind her head and one arm around her waist and I said, 'Nunnie, it's OK to let go and let God come. And when you get to the gates of heaven, say hello to my Mom.'
"As soon as I said it [a sound escaped from her throat], and she was gone. She died in my arms. And I had a peaceful feeling in my heart."
Fordeley was so full of emotion that he went home and wrote the song.
"It's the best thing I ever did," he said. "It came from the heart."
He recorded it two days later, with his father playing harmonica.
---
SONG LYRICS
"It's Okay to Let Go (And Let God Come)"
Lyrics and music by Frank Fordeley
Oh, I never wanted to see her cry How much pain could she keep inside? This woman was her grandson's pride Oh, I can't believe those words she sighed, "I don't want to live, Frank, I just want to die." She's getting weaker as the days go by.
CHORUS:
It's okay to let go, you can let God come I don't want to hold you back from the King but there's just one thing — as those gates start to open wide, if you could take a little peak inside, tell my mom I love her so.
Oh, I told her soon we're going to get you home She couldn't dial the telephone I tried to feed her, tried to tease her. tried to make her smile Oh, I feel so greedy, I can't let go Too many things went wrong and she knows but now she's just waiting for me to let go
Oh, why did you leave me in the blink of an eye? All those memories that you're leaving behind I tried to feed her, tried to tease her, tried to make her smile.
Oh, I feel so greedy, I can't let go, too many things went wrong and she knows, but now I'm just supposed to be letting you go.