Ironman gym relocates to downtown
By Joe Scalzo
scalzo@vindy.com
YOUNGSTOWN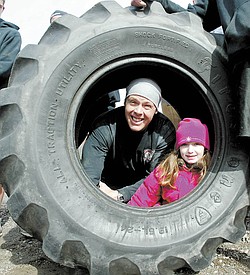 Photo
Ironman Warehouse gym is moving from Wilson Ave to downtown Youngstown. Owners and friends carried logs, tires and and other workout equipment the 1.8 miles to the new location. Owner Paul "Dunner" Dunleavy and his niece Jillian Dunleavy look out of one of the tires used for workouts at the gym.
At 10 a.m. on Saturday morning inside the former Ironman Warehouse on the city's East Side, Paul "Dunner" Dunleavy led gym members in a short prayer, asking God to bless the business, its people and its new location.
For good measure, he added this: "And keep us free from getting run over."
About a dozen members made the 1.8 mile trip from the old location to the new one downtown, carrying logs and rolling tires for the 26-minute trip.
It was a fitting walk for Dunleavy, who had been leading a group of coaches in a Bible study on Exodus.
When asked what would serve as manna, Dunleavy smiled and said, "Maybe a gyro at the A-Wrap store."
The gym's location and high heating bills — which approach $2,000 in the winter — prompted the move downtown, which he hopes will allow him to add new members.
The new location is at 350 E. Federal St. next to the Social Security building.
The Ironman Warehouse is best known for its unconventional training techniques, which include swinging sledgehammers and tossing 300-pound tires. Boxers Jake Giuriceo (who helped with Saturday's move) and Kelly Pavlik both train there.
"They want to move businesses downtown," Dunleavy said, "so we're coming."