Canfield robot takes home second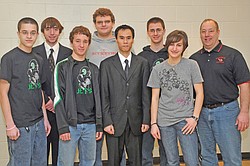 Photo
Neighbors | Submitted .The Canfield High School senior robotics team took home second place overall at the Northeast Ohio Robotics Education Program competition at YSU Mar. 10. From left, Eric Piskac, Luke Stefanides, Greg Cordy, John Powell, Nat Banchong, Graig Mihalik, Victoria Shobel and coach Don Crum.
By GRACE WYLER
gwyler@vindy.com
Despite minor setbacks, a robot from Canfield High School took home second place in the 2010 Northeast Ohio Robotics Education Program competition at Youngstown State University Mar. 10.
Team America, the senior robotics team from Canfield High, built the award-winning robot. The team — one of three Canfield High robotics teams in the competition — also took home second place awards for best technical journal and best presentation.
The robot had been programmed to slide along an unpainted wall. But the painted walls at the competition caused the Team America robot to stick in the first game of the competition, said Don Crum, the Canfield High robotics coach.
"It was a great experience, even with the problems they encountered," Crum said. "They had to solve a problem on the fly and they knew their programming so well, they knew exactly what they had to do to fix the problem."
The team came back to take second place in Game 2, and second place overall.
The Northeast Ohio Robotics Education Program is a regional high school and middle school robotics competition run by the Office of Associate Degree and Tech Programs at YSU.
Over the course of 8-12 weeks, the teams build an autonomous LEGO robot that is programmed to perform a set of defined tasks. The program culminates with the competition at YSU.
The competition aims to motivate students toward careers in science, technology, engineering and mathematics, or STEM, said Arlene Floyd, the director of the program.
"The United States, and especially Ohio, is really lagging behind the rest of the world in producing STEM workers," Floyd said. "We wanted to get students interested in engineering and science careers by introducing them to robotics."
The cost of many high school robotics programs often prohibits schools from competing, Floyd said. The competition operates on a "shoestring budget" in order to keep costs low so all schools can participate.
"The program was designed to get average schools involved in robotics," Floyd said. "We are not looking for engineering students, we are looking for teachers who are dedicated and want to do this."
In addition to introducing students to robotics, The competition teaches teamwork and problem solving, Floyd said.
"We emphasize that it is the process, and not the competition, that is important," Floyd said.
More like this from vindy.com