Top GM executive visits Lordstown
By DON SHILLING
shilling@vindy.com
LORDSTOWN
Cruze gets 3rd Shift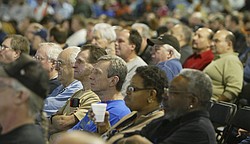 Gallery
GM Lordstown prepares for the Cruze.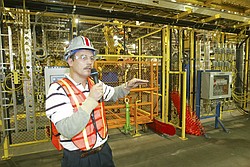 Gallery
GM Lordstown shows off preparations for the Cruze during a June 24, 2009 media tour.
A union official at the Lordstown car complex said a visit by General Motors' top executive shows a change in attitude by the corporation.
Ed Whitacre, GM chairman and chief executive, toured the complex Wednesday because "he wanted to come down and see where the money went," said Dave Green, president of Local 1714 of the United Auto Workers.
GM spent $350 million to renovate the complex for the Chevrolet Cruze, a new compact car that will be launched later this year. Most of the money was spent in upgrading the robotic equipment in the body shop, where the metal parts of the car are pieced together.
"It was refreshing to see someone at that level take an interest in small cars," Green said.
In the past, corporate executives have treated small cars as something GM had to build, instead of viewing them as an exciting part of the portfolio, he said.
The corporation was more interested in trucks and sport-utility vehicles as well as its Cadillac line, he added.
Whitacre, however, stressed that the Cruze is vital to GM. He added the automaker needs to build vehicles that people want to buy.
"He said that GM needs to build cool cars," Green said.
GM did not make Whitacre available to the media.
Green said the executive toured both the fabricating plant and the assembly plant. He also met with union leaders and a group of hourly and salaried workers.
Whitacre is the former chief executive of telecommunications giant AT&T. He had been GM's chairman when the board ousted former CEO Fritz Henderson last December. Whitacre took over as temporary CEO and then was named to the position in January.