By DON SHILLING
shilling@vindy.com
BOARDMAN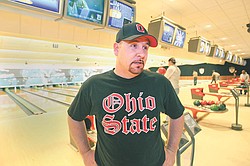 Photo
Greg Morris of Sharpsville, Pa., talks about his job search after bowling at Camelot Lanes. The Boardman alley had a jobs fair Wednesday in which job seekers received two free games of bowling.
Greg Morris, a tournament bowler, shrugged off his lackluster performance at Camelot Lanes.
What concerned him more than his 172 average Wednesday was the crowd of people bowling along with him.
They weren't competing against his bowling score. They were fellow unemployed workers who were competing against him for a job.
More than 450 people showed up Wednesday for "Bowling for Jobs," a weekly event that Camelot Lanes has been having with the One-Stop employment agency. Everyone who fills out paperwork receives two free games.
"I see a lot of people here," said Morris, 39, of Sharpsville, Pa. "There are a lot of people out of work."
Gloria Mathews, a One-Stop spokeswoman, said the two previous Bowling for Jobs events had 100 people or less.
The first one targeted telemarketing jobs, while the second focused on health care. This week's event was to recruit machinists, welders and forklift operators.
Comprehensive Logistics in Austintown, a supplier to General Motors' Lordstown complex, is looking for 70 workers, but other companies have just one or two openings.
The employers did not attend this week's event like they had the previous ones because they had such a small number of openings, Mathews said.
She added, however, that the scattered job openings show that the economy is improving, and One-Stop officials are eager to bring more out-of-work factory workers into its system.
"It's starting to look a little better. No one is doing cartwheels yet, but everyone is feeling more optimistic than we were a couple months ago," she said.
Peppy Smith, who owns Camelot Lanes with her husband, Bob, said they proposed the jobs fair idea to One-Stop after seeing it work at a bowling alley in Michigan.
The event encourages people to use One-Stop's resources, but it also gives them a positive impression of Camelot Lanes, she said.
"I told them that if they get a job, they can start a machinists, welders and forklift operators bowling league. We could use the help, too," she said.
About 30 of the job seekers belonged to a welding class at New Castle School of Trades. Todd Vogus, welding department chairman, gave the students a day off of class so they could apply for work.
Times have been tough, he said. The welding program had a 99 percent placement rate for graduates three years ago but that is down to about 50 percent now, he said.
Morris, the tournament bowler from Sharpsville, wasn't part of the class but it was his first time using Ohio's One-Stop agency.
He was laid off in January 2009 from Sharon Tube, where he had operated cranes and fork lifts.
He hopes he can land a job so he can better support himself and his 15-year-old daughter. If that doesn't work, at least he will have a better feel for the lanes in case he ever enters a tournament at Camelot.
"This gives me an idea of what I'm looking at," he said.