Software company expects growth with German partner
By DON SHILLING
shilling@vindy.com
YOUNGSTOWN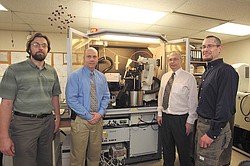 Photo
Officials stand near laboratory equipment at Youngstown State University that led Zethus Software of Youngstown to form a partnership with the German company that makes the equipment. Shown are Andre Reinhardt, Zethus co-founder, left; Brad Myers, Zethus chief executive; Allen Hunter, YSU chemistry professor; and Eric Parker, Zethus co-founder.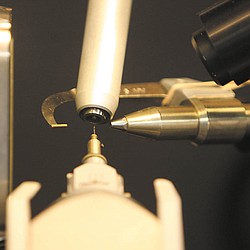 Photo
Here's an up-close look at a piece of laboratory equipment produced by Bruker-AXS. The German company will be offering the computing services of Zethus Software of Youngstown in a new partnership..
A software company based in the Youngstown Business Incubator is expecting rapid growth as it partners with a German company that will promote its product.
Between 10 and 15 workers are expected to be hired this year at Zethus Software, with an additional 30 next year.
Brad Myers, chief executive of the downtown company, said he figures to have more than 100 employees in four years as Zethus expands its software development, research and development, and customer support staff.
Rapid growth is expected because Zethus has reached a promotional agreement with Bruker-AXS, one of the world's leading manufacturers of analytical laboratory equipment. Bruker-AXS is a division of Bruker Corp., which has $1.1 billion in annual sales.
Bruker-AXS will offer Zethus' computing services with all of the laboratory equipment it sells. The partnership was being announced today by both companies.
Zethus develops "cloud computing," which involves storing digital data on many small devices instead of a desktop or laptop computer.
With numerous devices sharing the data, an authorized user can access the data without using the computer that generated the data. Also, the data is safe from being intercepted by outsiders because it is "shredded" into small bits that are useless unless they are reassembled by the system.
Also, Zethus' Cyber Lab product will allow equipment in a lab to be used by authorized users anywhere in the world, Myers said.
He said this capability was developed in the past year through work Zethus has done with the chemistry department at Youngstown State University. Using federal funds, the university contracted with Zethus for $396,000 to develop a cloud-computing system and a secure way to hook it up to the Internet.
Dr. Allen Hunter, a YSU professor, linked Zethus with Bruker-AXS because the university uses the company's lab equipment.
Hunter said this is a huge development for the Mahoning Valley because Bruker-AXS is one of the top providers of lab equipment in the world, and it has chosen a Youngstown company to help it offer a remote-access product.
Zethus installed 24 minicomputers at the chemistry department that store the shredded bits of data.
Myers said one advantage to the Zethus system is that all the data is stored in-house, so it is secure. Some providers spread the data out among outside computers.
Another advantage for Zethus is that its system can be plugged in and used almost immediately, Myers said. The company is completing a deal with an Ohio supplier that is expected to provide hardware for the system.
Zethus also is introducing a similar product for businesses this year. Cumulus DM will manage business documents in much the same way, allowing access to them by authorized users through any computer.
Eric Parker and Andy Reinhardt founded Zethus in 2003 and hired Myers in 2008.