Autism center adds research component
By HAROLD GWIN
gwin@vindy.com
YOUNGSTOWN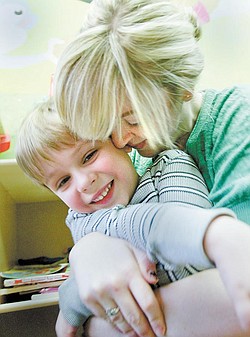 Photo
William D. Lewis| The Vindicator Rich Center teacher Erin Orr works with student Patrick Considine at The Rich Center at YSU 3-19-10.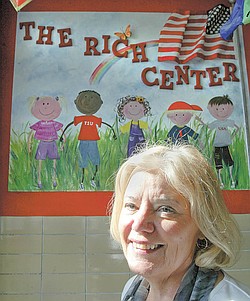 Photo
William D. Lewis| The Vindicator Georgia Backus, Director of the Rich Center at YSU poses for a portrait 3-19-10.

Photo
William D. Lewis| The Vindicator Rich Center teacher Patty Fisher, right, works with students Morgan Kerr, 9, left, and Rebecca Miller, 10 at the Rich Center at YSU 3-19-10.
Being designated a Center of Excellence by both Youngstown State University and the state will bring major changes to the Paula and Anthony Rich Center for the Study and Treatment of Autism.
The university wants it to be a center for research, said Ikram Khawaja, YSU provost and vice president for academic affairs.
Getting the designation will require more emphasis on research, agreed J. Georgia Backus, center director. There will be a focus on establishing a research component, she said.
"This is a very exciting time," she said. "We're just going into a whole different experience, a whole different growth pattern."
The center was created as a nonprofit organization in 1995 after the deaths of local residents Paula and Anthony Rich in an airplane crash. It's located in Fedor Hall at YSU and provides educational and treatment services to 70 children between age 21'Ñ2 and 16, most of them dealing with autism.
The center also runs an intensive summer program for young people with autism age 15 to 18 with the ultimate goal of having them enroll as students at YSU, Backus said.
Getting the Center of Excellence designation compelled the university to better define its relationship with the Rich Center, Khawaja said, and the center's board of trustees and the Academic and Student Affairs Committee of the YSU board of trustees recently penned a new agreement that does that.
Khawaja said the university will hire a director of research to oversee center operations.
Center employees, though funded from external sources, will remain YSU employees.
The Rich Center board will become advisory, and the annual Rich Center budget will be approved by the YSU board of trustees.
The university will continue to provide and maintain a physical location for the center on campus, and its development office will assist the center with fund-raising activities and goals.
A key focus will be linking the center with YSU's Beeghly College of Education with increased collaboration between YSU faculty and the center staff regarding autism research. The center would become a site for university students to do student-teaching and fieldwork, and lead classroom instructors at the center would hold valid teaching certification in special education.
Phillip Ginnetti, dean of Beeghly College of Education, said the Rich Center is now licensed as a day-care center, but YSU is looking at its becoming a K-12 school.
The center operates on an annual budget of about $1.5 million, with much of that coming from the Ohio Autism Scholarship program that provides $20,000 annually per autism student. Backus said the actual cost of treatment is significantly higher, averaging around $40,000 a year but sometimes climbing as high as $80,000.
The center relies on a lot of its own fundraising to meet its costs, she said, praising the community for its ongoing support of center programs.