Pothole Patrol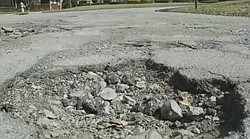 Video
Pothole season is here. If you find a whopper of a pothole we would like to hear from you.
By Elise Franco
efranco@vindy.com
Potholes: A motorist's worst nightmare, and nearly impossible to avoid — especially after a punishing winter.
County and township officials, however, say relief is on the horizon for drivers. Heavy patchwork will get underway in the next few weeks.
Martin Patrick, the Trumbull County Engineer's highway superintendent, said his crews have been out for nearly a month with cold patch material.
"We average about 50 tons per week of cold patch," he said. "For the most part, we have caught up on 85 to 95 percent of our holes."
Patrick said the county has stayed on task to make sure problem roads, such as portions of Tibbetts Wick Road, are filled in as needed.
"We have a couple roads that we know are sort of habitual problems," he said. "Truthfully Trumbull County is on top of things for the county roads."
Boardman Township Administrator Jason Loree said township crews have also been working with cold patch while they wait for warmer weather that will allow for hot patch.
Loree said last year the township used almost 84 tons of cold patch and 182 tons of hot patch, and this year should be about the same.
"Right now we're doing our numbers for this year," he said. "The township feels pretty confident that we have the funding to take care of the potholes this summer."
Patrick said he predicts Trumbull County will use about $40,000 in patching materials in 2010.
"I believe we're in good shape, and the funding is there," he said.
Marilyn Kenner, chief deputy Mahoning County engineer, said with many roads in need of work the engineer's office has budgeted about $250,000 for hot and cold patch materials this year.
"Unfortunately the county engineer is going through layoffs so we'll have the budget available to purchase the patching material," she said.
Kenner said crews have been out cold patching since mid-March and will begin hot patching in April. She said Ohltown, County Line and New roads in Austintown and Calla Road in Springfield are just a few of the problem areas to be addressed this summer.
"We have a lot of roads we know we need to address, but we're also complaint driven," she said. "We're trying to take care of as many as possible."
Liberty Township Road Superintendent Tim Monroe said Liberty might not be as financially sound.
Monroe said crews are out as much as possible, but the road conditions are poor and the township is in a fiscal pinch.
"There are many, many holes. We've had three consecutive bad winters and our streets are not in good condition," he said. "I don't know how the budget is going to play out, so I don't know to what extent we're going to be patching."
Meanwhile, Liberty Township Administrator Pat Ungaro said poor road conditions make pothole patching a priority.
"We'll probably be doing it most of the summer," he said.
On the state level, Jolene M. Molitoris, Ohio Department of Transportation director, said the agency is ready to tackle the post-winter road problems including potholes.
This year's construction season is 30 percent larger than in previous years. The total for this fiscal year and the next combined with active projects is $5 billion for the state, said Molitoris, a Warren native.
That includes plans to finish resurfacing of parts of U.S. Route 224 in Boardman and to resurface Interstate 80 in Girard, Austintown and Liberty.