---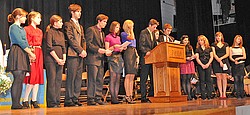 Photo
Neighbors | Submitted.Poland Seminary High School inducted a new class into its National Honor Society Feb. 24. The group of inductees included 75 juniors and seniors.
The Poland Seminary High School's chapter of the National Honor Society added 75 juniors and seniors during an induction ceremony Feb. 24.
The assembly included a piano performance by senior Alex Marr, a brass quintet, featuring seniors Kyle Filicky, Sarah Haylett, Karen Krumpak, Brian Cowles and sophomore Colin Reardon,and a woodwind quintet of seniors Marissa Mediata, Catie Carney, Shannon McCreary, Danielle Melidona and Melinda Bucher.
The new inductees recited the National Honor Society oath with current members and William Snyder, a chemistry teacher at the school offered congratulatory remarks to the new inductees.
The new members and their families were invited to a reception in their honor by the society's president, Tyler Raubenstraw.
Juniors inducted were Cassandra Best, David Bosak, Carly Carcell, Christine Colucci, Demetrios Constantine, Lindsey Cooper, Emily Cunningham, Natalie DeGenova, Patrick Donahue, Ariel Evan, Patrick Gayetsky, Lauren Greco, Ian Harker, Alexis Hertz, Brendan Higgins, Renee Howard, Amanda Hubbell, Elise Hurtuk, Dominc Iudiciani, Lauren Jenkins, Krystle Kalafut, Rachel Kalafut, Leigh Kelley, Sarah Komsa, Steven Kosko, Serena Lamping, Sarah Lankitus, Christopher Lipari, Anthony Machi, Alexander Magni, Aaiza Malik, Sarah Marchese, Anastsia Markota, Tatum Marucci, Holly Massuccio, Kelsie Mistovich, Allison Mitzel, Daniel Montgomery, Lidia Moward, Danielle Mullis, Geoffrey Nelson, Vincent Notareschi, Lauren O'Kane, Nicolette Ornelas, Jocelyn Penney, Nicole Petro, Sara Pompeo, Molly Porter, Chloe Queen, Elizabeth Reinhardt, Adam Robertson, Emily Rollo, Sara Rubesa, Stacie Ruse, Anna Sabol, Fred Seitz, Zachary Sesonsky, Alyssa Shields, Adriana Sikora, Dominic Sikora, Katherine Slaven, Jennifer Stevens, Samantha Susich, Benjamin Tadla, Christina VanSuch, Leanne Wainio, Dana Winkler and Olivia Zelinka.
Seniors honored included Kayle Chismark, Amanda Churlik, Dominic DeFelice, James Dobran, Angela Molaskey, John Price and Dominique Ruggiero.
The 2010 National Honor Society officers are Catie Carney, vice president; Jessica D'Apolito, recording secretary; Madison Gessler, corresponding secretary; and Jared Ankerman, treasurer.