Denman to sell its Trumbull tire plant
By DON SHILLING
shilling@vindy.com
LEAVITTSBURG
Denman Tire filed for bankruptcy and plans to sell its plant and equipment to pay debts.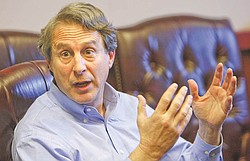 Photo
Sandy Pensler President of Denman Tire in Leavittsburg talks about the companys dire circumstances.
The Leavittsburg-based company filed a Chapter 7 bankruptcy, which involves liquidation of its assets, not reorganization. The filing was made Wednesday in U.S. Bankruptcy Court in Youngstown.
The 91-year-old tire manufacturer shut down its plant in early February, with some workers saying the company did not have the raw materials needed to continue making tires for the construction, agriculture and mining industries.
Tim Boyer, chief technology officer for Denman, said in an e-mail Wednesday that no one is working in the plant, office or warehouse.
The company employed 260 at full production, although about 80 workers had been laid off for the past year.
Sandy Pensler, company chief executive, could not be reached to comment Wednesday.
Pensler, who owns Denman through a New Jersey investment company, issued a public plea for help a year ago, however, saying the company was a lean operation.
"There's no one at Denman, including the managers, who makes over $100,000 a year. The CEO isn't making any money, and the employees already took concessions," he said at the time.
He said the company would close if the federal government did not put some stimulus funds into the company or buy its tires. Pensler said the military stopped buying Denman tires five years ago when it chose Michelin as its only supplier for off-road vehicles.
He said Denman needed $3 million to buy new equipment so that it could make larger off-road tires and radial, white-walled tires for antique cars.
He said at the time the company had $70 million in annual revenues and had lost money for two years.
The bankruptcy filing says the company has between 200 and 999 creditors, who are owed between $10 million and $50 million. A list of creditors has not been filed.
Company assets are listed at between $1 million and $10 million.
The filing said it doesn't expect any money to be available to unsecured creditors, which are those who do not have liens on company property.
A meeting of creditors has been scheduled for 11:30 a.m. May 11 at the bankruptcy court.