By ED RUNYAN
runyan@vindy.com
AKRON

Photo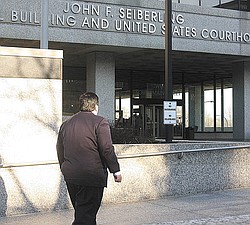 Photo
Above, John J. Cafaro, former vice president of the Cafaro Co., enters the federal courthouse in Akron. He was later booked into jail Wednesday for failing to give a federal judge details of his personal finances.
Ex-shopping mall executive John J. Cafaro is jailed for a few days after failing to give a judge details of his personal finances.
Cafaro, formerly The Cafaro Co.'s vice president, walked into federal court here to plead guilty to making a materially false statement regarding money he gave to his daughter Capri's 2004 congressional campaign.
By outward appearances Wednesday morning, the 58-year-old Liberty Township man expected to walk back out, convicted of a felony but free on bond until a sentencing hearing at 10 a.m. June 8.
Cafaro did plead guilty, and U.S. District Court Judge John R. Adams and Cafaro's attorney, Ralph E. Cascarilla of Cleveland, agreed that Cafaro was probably looking at a sentence of between zero and six months in prison.
But instead of walking out of court, he was taken out in handcuffs several hours later and moved to the Summit County jail in Akron to await a second hearing at 11:30 a.m. Monday.
The routine hearing changed course when the judge addressed the usually routine issue of Cafaro's bond.
"I'm going to order detention," Judge Adams said late in the hearing.
He explained that a pretrial-services officer with the court had reported to him that Cafaro and Cascarilla had "refused to answer any questions" regarding Cafaro's finances — such as his income and the value of his home and cars — information that the judge said the court needs to determine the proper amount of bond needed to ensure that Cafaro appears for sentencing.
Youngstown-based Cafaro Co. operates 12 malls and 30 shopping centers in 12 states, including the Eastwood Mall and surrounding complex in Niles.
"I've been here seven years. I can't remember one instance where the defendant didn't give the basic information to determine bond," Judge Adams said.
Cascarilla protested that there was some misunderstanding.
"I asked her specifically. It was not provided," Judge Adams said of the information, adding that he called the pretrial-services officer into his chambers before the hearing to question her in person.
Judge Adams then questioned the pretrial services officer in open court, and she testified that she had received only "general information" about Cafaro's position with the Cafaro Co. and not financial information.
Cafaro will be detained until Monday, Judge Adams said. As the judge left the bench, a U.S. marshal approached Cafaro with handcuffs, and Cafaro could be heard saying, "I thought it was March 22."
Cafaro was required to remove his suit coat, belt and tie and was taken to another room to be handcuffed. He met with his attorneys and remained in the federal courthouse for at least two more hours.
As Cascarilla left the courthouse at about 1 p.m. — two hours after the hearing ended — he refused to comment on what had happened.
Court officials said Cafaro would be taken to the jail sometime Wednesday afternoon to be held until Monday's detention hearing unless Judge Adams agrees to hold the detention hearing sooner.
Earlier in the hearing, Judge Adams told Cafaro he was giving up the right to appeal his sentence unless the judge exceeded federal sentencing guidelines.
U.S. Attorney Justin Roberts then discussed Cafaro's criminal history, noting that Cafaro received 15 months of federal probation in November 2002. That was for conspiring to bribe U.S. Rep. James Traficant Jr. regarding an aerospace company Cafaro formed.
Cafaro's probation ended about a year before Cafaro's newest charge, Roberts said. The newest charge involved causing a member of his daughter Capri Cafaro's campaign staff to file a false report with the Federal Election Commission to cover up a $10,000 loan J.J. Cafaro gave the campaign staffer to aid his daughter's failed U.S. congressional campaign.
J.J. Cafaro issued a statement recently saying Capri Cafaro "was not involved in any way" in the improper contribution.
Capri Cafaro is now a state senator for Ohio's 32nd District.
Giving more than $2,000 to the campaign was a violation of the Federal Election Campaign Act, the U.S. Attorney's Office in Cleveland has said.
State Sen. Capri Cafaro, D-32nd, didn't attend her father's plea hearing and hadn't spoken to him after the judge ordered him taken to jail, as of late Wednesday.
"I don't think anyone in the family has had the opportunity to speak with him that I'm aware of," she said.
The senator, who also is the state Senate minority leader, doesn't know if she will be able to speak with her dad before he returns to court Monday.
"The judge certainly has the prerogative to make decisions, and we have to respect those decisions," Capri Cafaro said.
Based on the seriousness of the crime and J.J. Cafaro's criminal history, the sentencing range for the crime is zero to six months in prison, Judge Adams said.
A presentence investigation will be conducted by the federal probation department to check the accuracy of Cafaro's criminal history score and other factors, Judge Adams said.