---
By HAROLD GWIN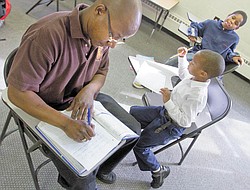 Photo
Wasilwa Mwonyonyi, left, of Eta Zeta chapter of Iota Phi Theta fraternity, tutors Christian Armour, a 5-year-old who attends Youngstown Christian School, and Matthew Walton, 13, a student at Volney Rogers Middle School, in math and history. The tutoring session occurred at the Buckeye Neighborhood Youth Center on the city's North Side.
gwin@vindy.com
YOUNGSTOWN
Economic hard times forced the Buckeye Neighborhood Youth Center at 4211'Ñ2 North Ave. to shut down its youth programs in 2004, but some Youngstown State University students are helping bring new life to the facility.
The center did begin offering some new programming again in mid-2009, but it's operating strictly with volunteers at this point, said Samantha Fox, the volunteer administrator.
The brothers of Iota Phi Theta fraternity at Youngstown State University have occasionally been renting the facility for social functions and decided to approach the center about offering a tutoring program, said Ra'Shawd Davis of Warren, president of the fraternity's Eta Theta Chapter and a third-year criminal justice major.
They kicked off the tutoring program a few weeks ago, with seven fraternity brothers and four fraternity sweethearts participating, Davis said. They average about eight children a day now but can handle up to 15, he said.
The free service, under the direction of Byron Armour, the center's operations officer, is available to children in kindergarten through the 12th grade from 3 to 6 p.m. Monday through Friday but can also be arranged by appointment on Saturday and Sunday, Fox said.
Davis said the program is modeled after a national Iota Phi Theta program known as "Youth Alliance," which is a delinquency prevention program aimed at keeping kids in school.
The fraternity has some mentoring experience under its belt, too, Davis said, noting that it has provided that service to some Youngstown city schools and other organizations.
Tutoring at the Buckeye Center is only the beginning, he said.
The fraternity is working on plans for junior basketball and soccer leagues this summer as well as a summer day camp program. There will be more educational initiatives and counseling, too, he said.
The fraternity brothers participating in the tutoring program, in addition to Davis, are Wasilwa Mwonyonyi of Akron, Rodney Wells, Joe Boyd and Jovon Anderson of Cleveland, Lester Stanford of Youngstown and Christopher McNeal of Columbus.
The fraternity sweethearts involved in the program are Brittany Hines, Kelli Willis and Dominique Scott and Zanoah Battles, all of Youngstown.
Fox said the center is pleased to again be offering programs to aid the city's young people, explaining that the goal is to instill the social values of integrity, respect, accountability and responsibility that will produce productive citizens.
The center continues to look for volunteers to assist with programming and donations to fund them.
It will have an adult Spring Fling dance Friday to help raise money.
Tickets are $8 in advance or $10 at the door.
To secure tickets or for information on tutoring, call the center at (330) 746-7676.