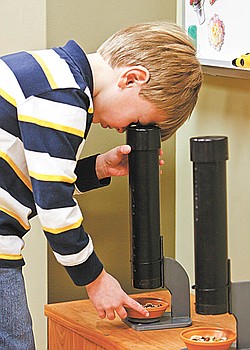 Photo
Super Seeds program at Mill Crek MetroParks Fellows Riverside Gardens - Students of South Range Elementary first graders for Mrs Gerri Less learn what a seed is and what it needs to germinate. The students were able to plant a seed in a small pot. germinate a lima bean in a plastic pouch with no soil and see different types of seeds. Garrett Sheets looks at a kaleidoscope of seeds as he sees different sizes and color of seeds.
STORY AND PHOTOS
BY ROBERT K. YOSAY
photo@vindy.com
The Super Seeds pro- gram at Fellows Riverside Gardens in Mill Creek MetroParks is an educational program for children in pre-kindergarten through the second grade. It's been offered for more than 10 years.
The program has the kids learn what a seed is and what it needs to germinate. Youngsters literally follow the germination process with a seed necklace they make during the program.
Lynn Zocolo, MetroParks' coordinator for school programs, said Super Seeds is one of the more popular programs because it is very hands-on and student-friendly. It discusses the many kinds of seeds that surround us every day.
Gerri Less, a first-grade teacher at South Range Schools, recently took her class to the center.
"The program is great for students of all ages," she said, noting she's been bringing her students yearly to the park.
"It's a great way to get the students interested in flowers and gardening at a young age because they plant the seeds themselves, and with a little help from the sun, get to see the plant emerge from the soil. It's very rewarding, and the students learn to appreciate nature," Zocolo added.